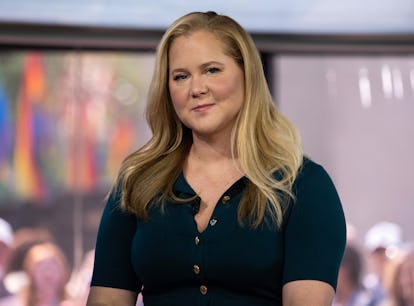 Amy Schumer Dropped Out Of Barbie Because The First Version Wasn't Feminist
Thankfully, the Margot Robbie version is different.
NBC/NBCUniversal/Getty Images
The long road to bring Barbie to the big screen isn't as pretty as the pink-tinged movie itself. Barbie was first announced nearly a decade and a half ago in 2009, and it wasn't until 2016 that the movie seemed to finally settle on a star... until Amy Schumer exited the project the very next year. Of course, now Margot Robbie is the real-life Barbie at the center of the film, which will finally be released this summer, and Schumer is ready to get real about why she actually chose to pass on the role. From the sounds of it, Barbie wasn't always the feminist story that Greta Gerwig reportedly transformed the movie into, and Schumer wanted no part of its original message.
Back in 2017, Schumer vaguely cited "scheduling conflicts" as the reason she had to drop out of Barbie, which was being produced by Sony Pictures at the time. But the real reason had more to do with the movie's creative direction, it turns out. Schumer confessed she exited the movie because of creative differences during her June 8 appearance on Watch What Happens Live. "I think we said it was scheduling conflicts. That's what we said. But it really was just like, creative differences," Schumer admitted.
She went on to say she's excited to see the new iteration of the movie, which she thinks looks more feminist than what it once was. "I can't wait to see the movie. I think it looks awesome," Schumer said. "There's a new team behind it and it looks like it's very feminist and cool, so I will be seeing that movie."
When host Andy Cohen asked if she left the 2017 version of Barbie because "it didn't feel feminist and cool," Schumer admitted that was indeed the reason.
It's totally understandable how Barbie likely transformed many times in its several years of development. The movie was passed between multiple studios, writers, and directors, having been rewritten a surprising amount of times with various actors attached to star.
It wasn't until 2019 that director Greta Gerwig and her husband Noah Baumbach were given full creative control to pen the new Barbie script, with Margot Robbie set as the title role. And now, this new version of Barbie is finally driving her hot-pink Corvette onto the big screen on July 21, after so many years dodging obstacles on the road.