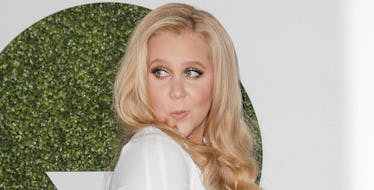 Amy Schumer Shares Side-By-Side Pic To Make Statement About Stomach Rolls
REX/Shutterstock
Several months ago, Amy Schumer shared a naked photo of herself taken by photographer Annie Leibovitz for the 2016 Pirelli Calendar.
The photo showed Schumer posing in nothing but heels, holding a Starbucks cup. She not only looked badass AF, but absolutely beautiful, too.
She captioned the photo,
Beautiful, gross, strong, thin, fat, pretty, ugly, sexy, disgusting, flawless, woman. Thank you Annie Leibovitz!
Over this past year, Schumer has become one of the most powerful influencers of body positivity. She's used her fame to shed light on issues that matter to her, like body confidence and self-acceptance.
She's continued to fight against Internet trolls and online haters who try to put her down, all while teaching young women to love who they truly are.
But she hasn't stopped there. Schumer just shared an Instagram post to make a huge statement about the human body, specifically focusing on stomach rolls.
The comedian added a side-by-side photo that a fan by the username whitneyzombie posted, and it compares Schumer's body to the Greek goddess Aphrodite's.
Schumer added a second photo sharing a screenshot of the full caption.
The user points out Amy's body bears a striking resemblance to the body of Aphrodite, who is the goddess of beauty. She discusses how every body is beautiful, no matter what size or shape.
Schumer captioned the photos thanking the Instagram user for posting the images.
Schumer recently shared a similar message to her fans on Instagram when Glamour referenced her in its plus-size edition without her permission. The comedian spoke out, saying,
I think there's nothing wrong with being plus size. Beautiful healthy women. Plus size is considered size 16 in America. I go between a size 6 and an 8. @glamourmag put me in their plus size only issue without asking or letting me know and it doesn't feel right to me. Young girls seeing my body type thinking that is plus size? What are your thoughts? Mine are not cool glamour not glamourous
Thank you, Amy, for constantly reminding us what it means to be beautiful.