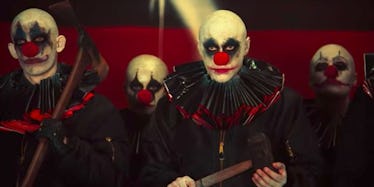 'American Horror Story: Cult' Teaser Theory May Explain Who Will Lead The Cult
FX/YouTube
Now that the theme for the seventh season of American Horror Story has finally been revealed, fans are putting together some pretty convincing theories about what exactly is going to be going on with this mysterious cult. All the first teaser trailer showed us was the cult is made up of a bunch of people dressed as creepy clowns, and there are also bees involved somehow. But now that the upcoming season has just released its official cast photos, there's a new American Horror Story: Cult theory about who's really running things this season that may surprise you.
After checking out the new cast photos, one Redditor theorized Billie Lourd's character, Winter Anderson, could be the person leading the clown-filled cult. The guess is Winter Anderson is the sister of Evan Peters' character Kai, given both characters are shown wearing more old-timey clothes, which sets them apart from the rest of the cast and the 2016 time period of the season. The strange clothing choice also has fans thinking Winter and Kai are the leaders of the cult, which they may have formed as an homage to AHS: Freak Show villain Twisty the Clown.
The only other thing we know about Evan Peters' character of Kai is he's meant to have a "love story for the ages" with Sarah Paulson's character Ally. This love story might drive a wedge between Winter and Kai, leading to a possible sibling rivalry at the center of the cult.
Another possible clue to help confirm this theory of Winter and Kai being siblings at the center of the cult is a quick shot from the first teaser trailer, which shows all of the clowns bowing in a circle around a woman with blue hair. Fans were quick to guess this mysterious woman was Billie Lourd. If they're right, it helps confirm the new fan theory in two ways: first, she's at the center of the cult so it's likely she's the leader, and second, her long blue hair in the scene matches the blue hair of Evan Peters' character Kai, which points to a connection between them.
After playing second fiddle to Emma Roberts' Chanel in Ryan Murphy's other horror series Scream Queens, it looks like it's finally Billie Lourd's turn to be the one in charge. American Horror Story: Cult will premiere on September 5.