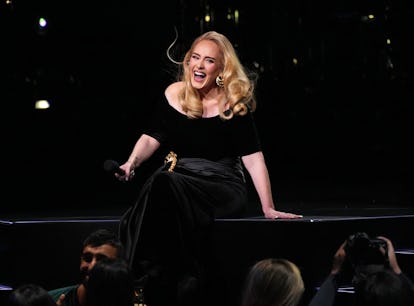 Adele Is Turning Her Vegas Residency Into A Movie So Everyone Can See It
Couldn't afford a trip to Vegas? No problem!
Kevin Mazur/Getty Images Entertainment/Getty Images
Securing concert tickets in 2023 is becoming a near-impossible task, but Adele is taking it easy on fans. The superstar has been belting her heart out at Las Vegas' Caesars Palace throughout the end of 2022 and the beginning of 2023, but if you weren't able to see her show-stopping "Weekends with Adele" concert, then you're in luck. Adele announced that not only will she be extending her Vegas residency, she's also planning to film her upcoming performances to release a concert movie.
Adele's March 25 performance was originally meant to be the end of her "Weekends with Adele" residency, but she surprised the crowd during the show by announcing the concert series would extend through the end of 2023. Not only that, Adele also revealed she's working on a "Weekends with Adele" movie that will let the fans who couldn't make it to Vegas experience the show.
"Playing to 4,000 people for 34 nights is not enough, and I know that, so I am coming back," Adele said. "I'll be back for a few weeks in June, and I'm going to film it and I'm going to release it to make sure that anyone who wants to see this show can see it. And then I'll be back from the summer. Back in August until the end of fall."
"Weekends with Adele" has been heralded as a breathtaking live music experience, full of unforgettable spectacles like a burning piano and confetti raining on the stage. The performances have also gone viral several times, like when Adele incorporated some Megan Thee Stallion choreo into the show, signed a fan's wedding dress while singing, and when she cleared up what was happening during her meme-worthy Super Bowl moment.
Though the residency is a hit now, it actually had a pretty rocky start. "Weekends with Adele" was originally meant to debut at the start of 2022, but had to be delayed until the end of the year due to complications caused by COVID. The show finally kicked off in November 2022, and now it sounds like it may keep going until around November 2023. The new performance dates have not been revealed yet, nor has there been any more information about when and where the concert film will be released, but it's already clear 2023 is going to be the year of Adele.