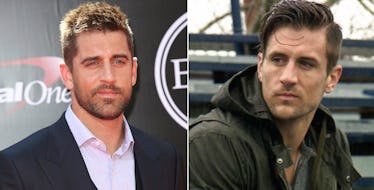 Aaron Rodgers Speaks Out About Jordan Rodgers Being On 'The Bachelorette'
REX/Shutterstock/ABC
If you've been watching this season of "The Bachelorette," you're probably aware of the family drama between Jordan Rodgers and his big bro Aaron.
While competing for JoJo Fletcher's heart on the show, Jordan has opened up about the fragile relationship he has with the Green Bay Packers quarterback.
When JoJo visited Jordan's hometown, Aaron Rodgers and his wife Olivia Munn were the only two missing from the table.
Fans of "The Bachelorette" immediately became aware that something serious was going on between the Rodgers brothers.
But Aaron Rodgers has finally broken his silence and shared his feelings about Jordan competing on "The Bachelorette."
According to E! News, Aaron hasn't spent much time thinking about his bro on the show. In an interview with WISN, Aaron explained,
I haven't seen the show, to be honest with you, so it hasn't really affected me a whole lot.
All right, can you give us a little more than that? Aaron Rodgers has become a huge focus on this season so I need answers NOW.
Aaron elaborated on his relationship with Jordan and shared,
As far as those kinds of things go, I've always found that it's a little inappropriate to talk publicly about some family matters, so I'm just — I'm not going to speak on those things. But I wish him well in the competition.
Damn, that's rough. If Jordan Rodgers ends up being the last man standing, that means he'll propose to a woman who never met his brother.
That's a little awkward, if you ask me. OH WELL! Good luck, Jordan. I'm rooting for you.
Citations: Aaron Rodgers Discusses Jordan Rodgers On 'The Bachelorette' (E! News)