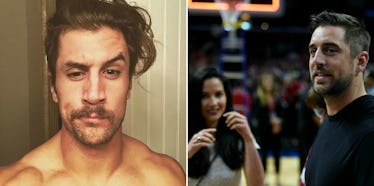 This May Explain 'The Bachelorette' Drama Between Aaron And Jordan Rodgers
On Monday's episode of "The Bachelorette," JoJo Fletcher visited each of the final four contestant's hometowns to meet the guys' families and get a better sense of where these dudes come from.
For the most part, the visits went well. However, JoJo's visit to Jordan Rodgers' hometown was downright awkward.
At the beginning of this season of "The Bachelorette," we learned Jordan Rodgers is the brother of NFL and Green Bay Packers superstar quarterback Aaron Rodgers. And we learned there's something of a rift between the two brothers, as well as between Aaron Rodgers and the rest of his family.
As you can see in the below promo video for this week's episode, the beef between the Rodgers brothers was front and center on "The Bachelorette."
It looks like Twitter certainly picked up on the problems going on between Jordan and Aaron Rodgers.
So, what's the deal between these two? On paper, you'd think they would be best friends. Well, according to "Bachelor" expert Reality Steve, it appears Olivia Munn, Aaron Rodgers' girlfriend, is at the root of the rift.
Speaking on the Rodgers saga, Reality Steve reportedly said,
From everything I heard, this all started around the time Aaron started dating Olivia Munn. Things have been tense ever since. I don't think [the family are] fans of her.
As far as how he sees his relationship with his older brother Aaron now, Jordan Rodgers reportedly said,
Not having a great relationship with my brother Aaron, or what people think that relationship should be, didn't define me. I'm defined by the character I have. It's just kind of the way he's chosen to do life and I chose to stay close with my family and my parents and my brother.
Apparently, there's still more chatter to come on this season of "The Bachelorette" concerning Aaron Rodgers' alleged strained relationship with his family. I can't wait to see just what that entails.
Citations: Did Olivia Munn Ruin Aaron Rodgers' Relationship With His Brother, Family? (NESN), 'Bachelorette' to highlight Aaron Rodgers' apparent family drama (FOX News)