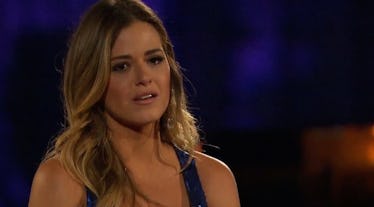 Fans Are Losing It Over The Dramatic Ending On Last Night's 'Bachelorette'
ABC
Last night on "The Bachelorette," JoJo Fletcher went on hometown dates with the remaining four men.
The 25-year-old real estate developer from Dallas, Texas has narrowed down her suitors to Chase McNary, Luke Pell, Jordan Rodgers and Robby Hayes.
The two-hour episode began with a visit to Chase's home in Castle Rock, Colorado. He told JoJo about his parents' rocky divorce and ended the date by confessing his love for her.
He even cried while opening up to his mom. IT WAS SERIOUSLY THE CUTEST THING EVER.
Then we made it to Chico, California to hang with Jordan Rodgers and his family. Except, there was one big problem.
Jordan's big bro Aaron Rodgers wasn't able to make it. OH SNAP, talk about family drama.
The former football quarterback made it clear he and his brother aren't close, and um, JoJo definitely seemed disappointed.
It seemed to be the only thing on her mind, to be honest.
What a great trip! After Jordan, the Bachelorette headed to St. Augustine, Florida to interrogate Robby Hayes about his ex-girlfriend.
Robby's mom told him there are rumors he broke up with his ex just to be on the show. Obviously, JoJo wanted to talk about it.
After all that drama, JoJo finally made it to Luke Pell and went on the most ROMANTIC HOMETOWN DATE OF ALL TIME.
She met his family and friends, and then he escorted her to a field and declared his love for her.
There were candles and flowers in the shape of a heart. It was like a freaking promposal, for crying out loud.
Even though Luke made his feelings for JoJo clear, he failed to say the words "I love you," which left JoJo hesitant about their relationship.
In the end, it was at the rose ceremony where shit hit the fan. Out of nowhere, JoJo confessed she was ready to send Luke home.
ARE YOU KIDDING ME RIGHT NOW? WTF WENT WRONG?
Here's when things got even crazier. JoJo was about to give out her first rose when suddenly Luke is like, "WAIT, JOJO, I need to tell you something."
Then Luke takes JoJo away from the other men and tells her he's in love with her and didn't get the chance to say it. PLOT TWIST.
This makes JoJo lose her shit. She has no clue what to do in this moment...except stand alone and bawl her eyes out.
LET IT ALL OUT, JOJO.
THEN, CHRIS HARRISON'S VOICE COMES ON AND IS LIKE, "TO BE CONTINUED NEXT WEEK, SUCKERS!"
AND THE EPISODE ENDED. THAT WAS IT. We were left with no closure.
So now we have to wait seven whole days to find out Luke's fate. And yeah, that's everything you missed.
Next week, there will be back-to-back episodes on Monday and Tuesday night, so be sure to follow our live-tweets on Elite Daily's Twitter page.
LUKE, I AM ROOTING FOR YOU. I also am single, so if JoJo doesn't work out, hit a girl up. Haha, I'm not kidding.
I'm 100 percent serious.
Call me.