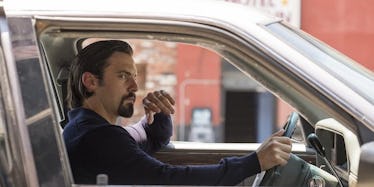 5 Things To Remember About 'This Is Us' Before Season 2 Premieres
Ron Batzdorff/NBC
The time has come, people. The second season This Is Us is so close to premiering that we feel it in the air, and our eyes are already welling up in anticipation. I'm so excited that I can practically taste that Twinkie-frosted banana birthday muffin. But so much went down in the first season that it's hard to remember just how the show left off. If you need a This Is Us Season 1 recap to prepare you sufficiently for what's to come when it comes to our beloved Pearsons, you're probably not alone. Hey, there were decades of events to keep track of with all that time jumping... The last few episodes were chock full of emotional action, so a refresher is almost a necessity at this point. The Big Three plus two parents and 37 years (and change) of familial happenings equals So. Much. Drama. Here are five important things you should probably remember before tuning in.
1. Jack and Rebecca's Big Fight
Pearson matriarch and patriarch Rebecca and Jack are absolutely essential to this family saga -- hey, there'd be no Big Three without them and then we probably wouldn't have this show... but we don't even want to think about that. Anyway, last season didn't exactly end on a good note for them, as we watched a flashback that included a major blowup that became a game changer in their relationship. After Rebecca went on tour to sing with her ex Ben, a drunken Jack went after her, only to end up punching Ben following Ben's attempt at kissing Rebecca. Big mistake. Huge. This all leads to Rebecca asking Jack to move out to stay with Miguel (Miguel, as fans know, will later become her second husband), and so he leaves to give them "some air." Noooooooo.
2. Changes For Randall
Much of Season 1 involved Randall meeting and ultimately forming a close bond with his dying biological father, William. Sadly William passed away from cancer before the finale, but it appears we haven't seen the last of him. Randall, prone to crippling anxiety since childhood, began experiencing debilitating panic attacks again in the episodes leading up to the finale. With a new outlook on life following his father's death, he made a shocking choice to seize the day and quit his job. He and his wife Beth also began considering adoption -- a decision they're struggling with, according to this first look clip.
3. Kevin's Dilemma
Oh, Kevin. The former "Manny" star has his own demons to wrestle with, as he's torn between the love of his life... and the role of a lifetime. At the end of Season 1, Kev rekindled a romance with his ex-wife and high school sweetheart, New York nurse Sophie, and they looked like there were on the road to happiness. Then Kevin got offered a part in a Ron Howard movie, and we're guessing he takes it considering Sylvester Stallone will be playing his co-star in Season 2. Will he and Sophie survive?
4. Kate's Next Step
Kate and Toby went through a roller coaster of a relationship in the first season. You may recall he had a heart attack in a mid-season finale cliffhanger, leading the audience to question if he would make it. Thankfully, he's all good, but he and Kate have some work to do. After attending a weight loss retreat, it becomes clear that Kate has some unresolved issues surrounding her father's death and she has trouble letting Toby in when it comes to her deepest feelings. The pair plans to slow things down a bit, but they do move in together. We're rooting for you, Koby.
5. Jack's Emotional Speech
Let's get back to that Jack and Rebecca fight, shall we? Yes, Jack left, but he made sure to leave us all in tears before his exit. One of the most memorable moments of the finale was Jack's last-ditch speech to his wife, listing the things he loves most about her. It was a doozy. "You're not just my great love story, Rebecca. You were my big break. And our love story — I know it may not feel like it right now, baby, but I promise it's just gettin' started," he then said before walking out. But is it just getting started? We all know Jack's days are numbered, and this emotional plea only hammers home the fact that this love story's last chapter couldn't be that far off. 
Fortunately, the Season 2 premiere will pick up the next morning. And creator Dan Fogelman has already revealed it "has a big giant piece of the puzzle that will potentially set the internet abuzz and hopefully give some momentum toward that storyline." We're so ready. Let the crying commence. Is it time to watch yet?