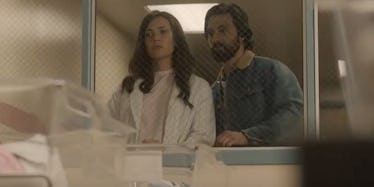 NBC Dropped Three Minutes Of "Pure Pearson Joy" About 'This Is Us' Season 2 & It's Everything
NBC/YouTube
It's time to wake up those sleepy emotions for the week, people, because the latest This Is Us Season 2 trailer is likely to bring you happiness, tears, and everything in between. NBC has blessed us with another sneak peek at the highly anticipated upcoming episodes and this time, the actors behind our beloved Pearsons are weighing in on all the drama (and joy!) to come. They're also revealing what the show and the amazing fan response has meant to them personally.
In addition to memorable clips from the first season (that karate scene gets us every time, man), the new trailer has glimpses of Season 2 that will definitely get you super excited for Sept. 26's premiere. "Season 1 ended with a bit of a cliffhanger, so Season 2 sort of picks up the very next morning," Mandy Moore, who plays mom Rebecca Pearson through the decades, explains. Spring's finale left us positively broken when it ended following a huge fight between her character and husband Jack (Milo Ventimiglia) in one of the show's many enlightening flashbacks. We're still not over it, but it looks like we're definitely getting some answers right away. At least we won't be biting our nails wondering how Rebecca is coping in the aftermath of it all.
As for the Big Three in modern-day 2017? "Beth and Randall are contemplating the possibility of adoption," Sterling K. Brown, who plays Randall, says of what to expect from his TV family. A Season 2 clip released last month that is sure to give your tear ducts a workout touches on that storyline and shows how Randall comes to his adoptive mother Rebecca for advice on the subject.
"Kate and Toby moved in together," Chrissy Metz explains of her character, following an adorably sweet scene between her and on-screen fiance Toby (Chris Sullivan).
"Kevin's sort of at a crossroads right now," admits Justin Hartley, who portrays Kevin Pearson. "Like, What do I do? Do I take the movie? Do I stay with Sophie?" Sophie, if you recall, is Kevin's ex-wife and high school sweetheart who he reconciled with at the end of last season. The movie is a Ron Howard project that his actor character is up for. Something tells us he takes said gig, because Sylvester Stallone is slated to play his co-star.
"People say all the feels, so you know, you get a chance to laugh a little. You may shed a tear or two. Hopefully it will just remind you of the strength of human connection," teases Sterling. You heard it, guys. Sterling K. Brown gets it. And we're guessing there are more than two tears in our future.
The cast isn't just spilling on what to expect, they're also gushing about the dream job that is being a part of the NBC hit. Plus, they know you love them and don't take the meaningful fan responses they've received as a result of the show for granted. "It's overwhelmingly beautiful, the response to The Big Three," says Sterling.
This Is Us had an incredible first season and was recognized with a whopping 11 Emmy nominations. Sterling K. Brown went home with a huge win on Sunday for Outstanding Lead Actor in a Drama and Gerald McRaney (shoutout to Dr. K) won Guest Actor in a Drama last at the Creative Arts Ceremony. Considering the spoiler-tastic red carpet interviews were flying, TV's biggest night wasn't without its fair share of intel regarding Season 2. Regina King, who recently directed a This Is Us ep, opened up about her experience and said that we'll see the family in a way we haven't previously. "You get to meet the Big Three in a decade you've never seen them in before," King revealed. Hmm, will we get to see the futuristic Pearsons in the 2020's? Probably not, but boy would that be interesting...
No matter what happens, it looks like this season is going to give us all the feels and then some. Even Sterling K. Brown says so. Check out the entire Gen Why series and other videos on Facebook and the Bustle app across Apple TV, Roku, and Amazon Fire TV.