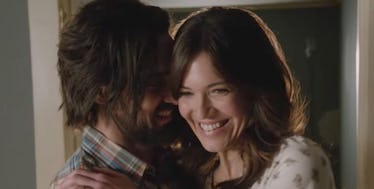 'This Is Us' Spoilers Revealed On The Emmys Red Carpet Will Get You Pumped For Season 2
YouTube/NBC
It'll surely bring some tears, but obviously fans cannot wait for This Is Us to return. Fortunately for those who are impatient and cannot hold off until the Sept. 26 premiere, there were This Is Us season 2 spoilers that hit the red carpet at the 69th Emmys. Naturally, people were all ears.
Apparently, fans are about to witness their favorite three siblings in a whole new way. Randall, Kate, and Kevin are going to be featured in a never-before-seen decade. Everyone's accustomed to the young days, when there are flashbacks to the trio's childhood. Then, fast forward to the present day, and the characters are all grown up. It'll definitely be interesting to see a new take on the group. As host Stephen Colbert sang in his intro, "It feels so good to feel so sad" when referencing the series.
The new emotional drama has been nominated in a whopping 10 categories, which includes nods for Milo Ventimiglia, Sterling K. Brown, and Chrissy Metz, so yes, echoing Colbert's sentiment, it feels good to let it all out. It's a tear-jerker for sure, but our hysterical host put a humorous spin on the sadness. "Your fans want to see you dead," Colbert jokingly said to Ventimiglia during the intro.
It seems something will definitely be happening with his character, Jack in the second season.. According to an interview with US Weekly, Ventimiglia gave fans the lowdown. He said,
A lot of Jack stuff is coming. I keep saying, towards the end of the first episode, there's a big piece of the puzzle that gets put out there. And in the course of the second season, I think all the questions that everybody's asking right now are going to be answered.
Be prepared to kick things off right after Rebecca (Mandy Moore) and Jack's big fight, TV Guide claimed. There is going to be a need for the Kleenix because there is also going to be some emotional family sit-down acknowledging the divorce. You might not need those tissues when it comes to the twins, Kate and Kev. Will Toby get between them? What's happening with Kevin in L.A.? There are so many questions, so thank goodness Sept. 26 is almost here.
But back to the awards show. Mandy Moore is seriously causing major turmoil on Twitter with her look for the evening. The dress is different what we are accustomed to seeing on the actress. Moore's This Is Us costar Susan Kelechi Watson complimented the show's star on her look, to which Moore replied, "I told you it was a lot of dress!"
For some, it was a "hard no."
Others thought it was a lot like milk's favorite cookie.
Then, there were those who fell in love with the whole ensemble.
Regardless of people's opinions, Moore was 100 percent glowing this evening... and there's certainly a big reason for that. She just got engaged to her longtime boyfriend Taylor Goldsmith. Naturally, Moore's This Is Us family had something to say about the big news.
"I was just in the studio with her her boyfriend, well now fiancé, Taylor. He didn't say a word! He seemed a little effervescent, but he's always pretty effervescent… I know him very well," Chris Sullivan, who plays Toby on the NBC drama, shared with Entertainment Tonight. "He's quickly becoming one of my favorite people, and he and Mandy are an incredible couple."
So there's definitely a lot to look forward to... and quite possibly a lot of tears to shed. Here's to season 2.
Check out the entire Gen Why series and other videos on Facebook and the Bustle app across Apple TV, Roku, and Amazon Fire TV.