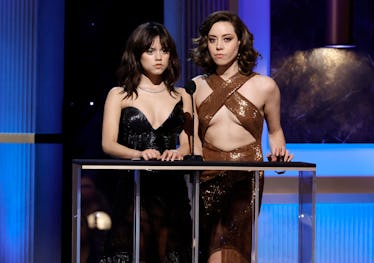 The SAG Awards Finally Brought Jenna Ortega & Aubrey Plaza Together
Plus, an iconic The Parent Trap reunion.
Kevin Winter/Getty Images Entertainment/Getty Images
You can always count on the Screen Actors Guild Awards to bring your favorite celebs out of their shell a bit. Unlike the stuffier Oscars or Emmys, the SAG Awards are all about actors honoring each other, so there's a lot more camaraderie and bonding in the room. That was on full display at the 2023 SAG Awards, which featured some of the most fun celebrity pairings ever.
From nostalgic reunions to bringing together two stars everyone loves, the SAG Awards totally delivered in terms of internet-breaking pairings. Some iconic duos took the stage together to present awards, while others shut down the red carpet with pics that quickly went viral. One of the most exciting collabs came from two leading ladies that nobody could stop talking about over the past several months: Jenna Ortega and Aubrey Plaza. Fans have been obsessed with comparing the similar deadpan comedic styles of the Wednesday breakout and the White Lotus star since their respective shows premiered in the fall of 2022, so when they presented together, they finally got to embrace their dark, witchy vibes as a duo.
The ceremony also featured some incredible reunions and other super buzzy meet-ups. Here are all the best celeb pairings to come from the night.
1. Lisa Ann Walter and Elaine Hendrix
Let's pretend this is actually how The Parent Trap ended: with Chessy and Meredith all glammed up as each other's dates to a swanky event. Lisa Ann Walter brought her Parent Trap co-star Elaine Hendrix along with her to the SAG Awards, and their red carpet photos together will make you want to rewatch your favorite '90s twin-swapping comedy immediately.
2. Jenna Ortega and Aubrey Plaza
At long last, Jenna Ortega and Aubrey Plaza combined their dark, deadpan forces to joke around about how they don't understand why everyone compares them to one another before presenting the Best Actor in a TV Movie or Limited Series award to Sam Elliott.
3. Zendaya and Paul Mescal
Another presenting duo that got the internet talking was Zendaya and Paul Mescal. As two of the leaders of the biggest stan armies on social media right now, it's no wonder everyone freaked out when they hit the stage together.
4. Zendaya and Austin Butler
Z didn't just have her moment on the stage. Fans were also obsessed with her seating arrangement during the ceremony. She was front and center right next to her Dune 2 co-star Austin Butler the whole time.
5. Andrew Garfield and Sally Field
Peter Parker and Aunt May, reunited at long last. Andrew Garfield delivered an outpouring of love for his The Amazing Spider-Man co-star Sally Feild while presenting her with the SAG Lifetime Achievement Award.
6. Amy Poehler and Adam Scott
Pawnee took over the SAG Awards when Parks & Rec co-stars Amy Poehler and Adam Scott reminded everyone of their hilarious chemistry while presenting Jean Smart with the Best Actress in a Comedy Series trophy.
7. Amy Poehler and Aubrey Plaza
The Parks & Rec love started even earlier in the night, though, when Poehler and Plaza posed together on the red carpet.
8. Amy Poehler, Aubrey Plaza, and Adam Scott
Don't worry, Parks & Rec fans — all three of the sitcom's stars that attended the SAG Awards made sure to get a pic all together.
9. Antonia Gentry and Haley Lu Richardson
Before the show started, Antonia Gentry and Haley Lu Richardson were the duo enjoying the red carpet the most. The two stars served as SAG Awards ambassadors for this year's ceremony, and they truly did serve.