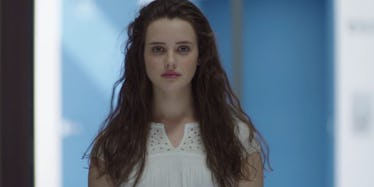 Here's Why You Shouldn't Wear A '13 Reasons Why' Costume For Halloween
Netflix
13 Reasons Why was undoubtedly one of the most talked-about TV shows of the past year. The show connected with teenage and adult fans alike, becoming a buzzy sensation and a major hit for Netflix. But just because something is a part of pop culture, the news, or the zeitgeist, doesn't always mean its fodder for a costume. 13 Reasons Why surrounds an incredibly serious subject matter that shouldn't be taken lightly and 13 Reasons Why Halloween costumes should be considered off-limits.
13 Reasons Why touches on extremely sensitive themes, including rape, bullying, and of course, suicide. If you're not familiar with the show, it revolves around Hannah Baker, a high school student who leaves behind a series of 13 tapes that explain the course of events that lead up to her taking her own life. While the show injects humor at times, suicide is no laughing matter. Playing such an emotional and sobering series out in something as light as a Halloween costume is inappropriate and has the potential to be triggering to others. This is not the arena to be offensive and insensitive, and a 13 Reasons Why costume fits those descriptions.
Netflix was met with its own share of criticism and controversy regarding 13 Reasons Why's content. The question of it possibly glamorizing teen suicide has been raised, and even The National Association of School Psychologists made a statement that read,
Its powerful storytelling may lead impressionable viewers to romanticize the choices made by the characters and/or develop revenge fantasies. They may easily identify with the experiences portrayed and recognize both the intentional and unintentional effects on the central character. Unfortunately, adult characters in the show, including the second school counselor who inadequately addresses Hannah's pleas for help, do not inspire a sense of trust or ability to help.
13 Reasons Why is beloved by many fans and it's been defended by some of its cast and creators, but there are other options when it comes to a Halloween costume. The holiday is known for taking inspiration from entertainment and current events, but with a series as serious as 13 Reasons Why, there's no real way to do that without crossing a line.
Netflix is full of popular shows that can serve as your All Hallows' Eve mood board. Stranger Things is massive right now, and if you watch the second season fast enough on Oct. 27, you'll probably have even more costume possibilities in mind, considering all the new storylines to work with.
GLOW was one of Netflix's latest gems and it's super easy to achieve the hair-sprayed magic and those b*tchin' wrestling vibes. Get yourself a sick '80s-inspired leotard, leg-warmers, and a satin varsity jacket. Et voila.
And there's always the lovable Kimmy Schmidt.
Please don't forget Grace & Frankie.
If you really are a Netflix fan and want to honor your one true love, there are possibilities for doing just that. There's always the art of pretending you're the streaming service itself by wearing a giant cardboard piece that represents a TV or computer, with a printout of the Netflix home screen on it. You can also annoy people by doing that intro sound effect all night. Or, just take the easy way out and wear a Netflix shirt, which you can get on Amazon for around $10:
Halloween is an opportunity to be creative. But, there should be respect, too! Halloween shouldn't make people uncomfortable, antagonize people, or lampoon serious subject matter that can offend and hurt.  There are so many choices and guides for a perfect Halloween costume, even if you're a total procrastinator. If you're in doubt, or others are like, "Yeah, maybe not..." when you bring up your idea, perhaps avoid it? Have fun and be safe.