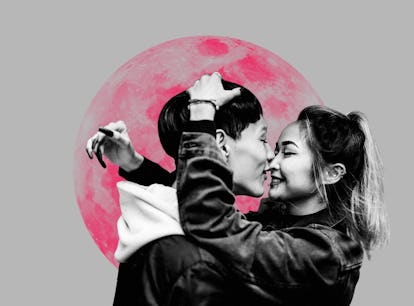 Your Sex Life Will Get ~Steamy~ If You're One Of These Signs
Shot girl summer, indeed.
No, 2021 might not be the clean, pandemic-free slate everyone hoped it would be, but there are still plenty of things to celebrate — especially if you're one of the four zodiac signs who will explore sexually in 2021. (Because hi, sex is fun.) Exploring your sexuality helps you learn a lot about the world, other people, and most importantly, yourself.
You may recall Jupiter and Saturn's Great Conjunction, which occurred on Dec. 21, 2020. TBH, Saturn's expansive vibes and Jupiter's call to discipline look really sexy after the claustrophobic, chaotic year that was 2020. But the cool part about this recent Great Conjunction is that Saturn and Jupiter aligned in Aquarius, a sign that's all about advocacy, philanthropy, and innovation.
In that same spirit of exploration, it's worth noting which signs are blazing a trail in the bedroom this year, now that Shot Girl Summer is in full swing I asked astrologers Jade Salzano and Kara Kamenski, aka The Astro Babes, about which signs are thotting it up in 2021 and here's what they had to say. (And whether you're one of the following signs or not, discuss COVID-19 precautions with the person you're dating to make sure you're on the same page.)
After a dumpster fire year like 2020, 2021 feels like a sweet reprieve with endless potential. If you're a Cap, a Pisces, a Taurus, or an Aquarius, lucky you! Read up on BDSM, switch your DMs to "open," and add some condoms to your shopping cart. This year is already one to remember, and not just for the wild memories you're about to create in the bedroom.
Sources:
Jade Salzano and Kara Kamenski (The Astro Babes), hosts of the Blame It On The Stars podcast
This article was originally published on