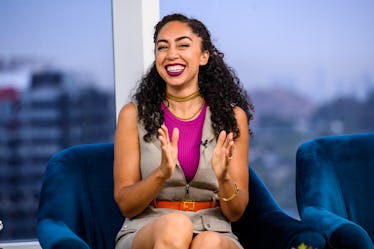 Follow These 10 Fun & Inspiring Sexperts On Twitter
E! Entertainment/NBCUniversal/Getty Images
There are plenty of mixed messages out there when it comes to pleasure and sexuality education. Unfortunately, depending on where you grew up and what you were taught in school, you may not have had access to inclusive, science-backed information about sex and consent. That's where the pros come in — the best sexperts to follow on Twitter are providing a positive, judgment-free spin on self-love, relationships, and wellness. They've made a career helping others embrace their sexuality.
Believe it or not, only 24 U.S. states and the District of Columbia currently mandate sex education in schools, according to Planned Parenthood. And the subjects actually taught in those sex education programs are often left up to individual school districts. This leads to a lot of confusion among young people about safe sex, contraception, and healthy relationships. (Not to mention the orgasm gap between genders.) A December 2017 Guttmacher Institute survey found that only half of teenagers received formal instruction about contraception before they had sex, and fewer than 6% of queer students reported receiving LGBT-positive sex education in their health classes.
It's a frustrating reality, but thankfully, there are plenty of badass professionals determined to break down cultural stigmas about sex. Here's who you should totally follow on Twitter for no-nonsense, inclusive, and fun sex advice.