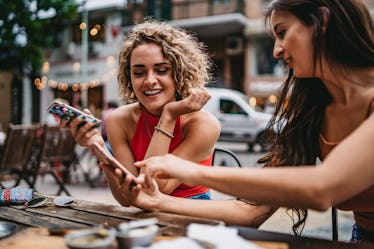 If You're Curious About BDSM, Here Are 10 Educational IG Accounts To Follow
urbazon/E+/Getty Images
BDSM made a splash in 2020's mainstream culture. The buzz surrounding (the very problematic) 365 DNI movie and the lyrics to "WAP" this year indicate as much. But in the same way that porn shouldn't be substituted for sex education, spicy pop culture moments don't make for great how-to guides for kink. The following educational BDSM Instagram accounts, however, can give you everything you need and then some.
These informative accounts are run by certified sexologists, therapists, and sexuality educators. They're also run by dominatrixes, professional bottoms, and all kinds of veteran thots who want to share their years of experience with you. Engaging with these educators' accounts can also benefit them greatly in light of Instagram's recent Terms of Service update. On Dec. 20, 2020, Instagram changed its guidelines to adhere to parent company Facebook's rules against sexual solicitation. These changes can penalize sexuality professionals for using suggestive words, emojis, or hashtags.
While Instagram insists they're not targeting the sex ed community, many creators and educators have experienced censorship that has already impacted the way they use the app, which is often essential to their livelihoods. That's why now, it's more important than ever to follow your curiosity and tap into the Instagram BDSM education community. With this in mind, here are 10 accounts to follow.