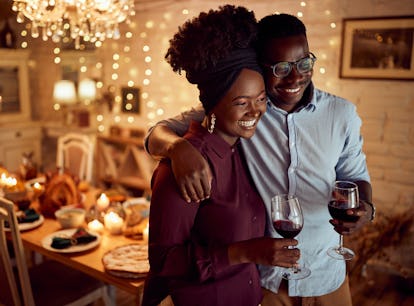 These 4 Zodiac Signs Will Have The Most Romantic Thanksgiving
Forget about eating stuffing — your heart will be stuffed with love.
Shutterstock
All right, so Thanksgiving may not be the most romantic holiday, traditionally speaking. Americans tend to spend the day smothering poultry carcasses in butter, discreetly undoing our pants beneath the table (so we can squeeze in just one more slice of pie, obviously), and debating politics with family members who are not unlike Saturday Night Live's "drunk uncle." That said, at its core, Thanksgiving is a celebration of the harvest — a time to reflect and appreciate what we've grown so far this year, metaphorically or otherwise. And — especially for the zodiac signs that'll have the most romantic Thanksgiving — it's a stellar opportunity to turn up the heat, in the kitchen and the bedroom.
Maybe you could leave your S.O. a cute, sappy love note on their place setting at the table! Bring a bouquet of their favorite flowers over for dinner! Heck, maybe you two could even have a sexy pie-making sesh, covering each other in whipped cream while your family watches the parade in the other room. Simply put, there's no shortage of ways to inject a bit more passion into your Turkey Day. And if you're an Aries, Taurus, Virgo, or a Libra, chances are, you've already got some charming tricks up your sleeve.
After all, the fourth Thursday of November is a perfect time to relax and enjoy time with people you care about, in every sense. Whether you're celebrating with your partner, nuclear family, a group of Friendsgiving pals, or a delightful blend of all of the above, there's no better day to show your beau some extra gratitude and affection — especially if you're one of these four signs.
This article was originally published on