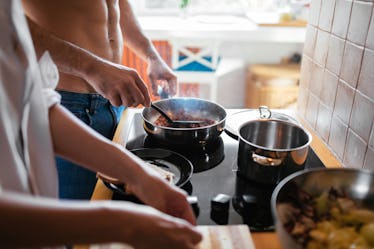 5 Thanksgiving Side Dishes That Are Packed With Aphrodisiacs For A Steamy Time
It's hard to believe that Thanksgiving is almost upon us (wasn't it just Halloween?!), but you most likely have your Turkey Day plans arranged, flights booked, and now it's time to plan the menu. You might find classic dishes like turkey, cranberry sauce, and green beans on your table this year, but you can also liven things up with these aphrodisiac Thanksgiving side dish recipes, especially if you'll be celebrating the holiday alongside your significant other. An aphrodisiac is a food that, when consumed, can increase your libido by releasing certain chemicals, increasing circulation, and heightening your sensual senses. This Thanksgiving, instead of fading into a post-meal tryptophan-induced coma, add these elements to your menu and you might instead have a lot of... energy.
When you think of aphrodisiacs, you probably think of red wine, chocolate, and oysters — and you'd be spot on. While those three are great elements to date night libido-boosting fare, they are easily incorporated into a Thanksgiving menu. Whether you're in charge of the entire feast, or simply contributing a side dish, there are tons of ways to either showcase or sneak in some lesser-known aphrodisiacs. Of course, we share a meal with our loved ones on Thanksgiving to celebrate togetherness, gratitude for the good things in our lives, and enjoy time with our nearest and dearest. And if you happen to be celebrating with your partner, these side dishes just might bring you even closer!