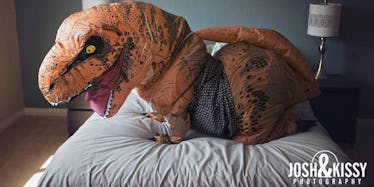 This Woman's "Sexy" Photo Shoot In A Dinosaur Costume Will Literally Have You In Tears
I honestly didn't think there was anything left on the internet to look at, you guys.
But then, I saw one woman's literally epic photo shoot, and now, my face is clear, my crops are thriving, and I believe in world peace again. I'm not even exaggerating.
Ahead of her wedding, Nicole Stein thought it would be a fun idea to do a boudoir photo shoot, and put all the photos in a book for her fiancé.
TBH, that's more romantic than I've ever been in my life, considering my idea of romance is ordering a large pizza for someone, and then eating it all myself.
But Nicole wasn't going into this shoot without having a little fun. So she posed for the photos... in a blow-up dinosaur costume.
Can you say SEXYYYY?
Nicole teamed up with Kissy Spicer, of Josh & Kissy Photography, to make these tyranno-sexy (I'm sorry) pictures come to life.
"We're in a mom group together, and one of the moms jokingly said she wouldn't do a boudoir shoot unless it was in a costume. My husband had the dinosaur costume and we just ran with the idea," Kissy told Mashable.
Though this photo shoot came out hysterically, let it be known that being a sexy dinosaur is NOT easy, you guys. What do you even do with those little arms?
"This was for sure one of the funniest, most ridiculous things I've ever done. The suit was so hot inside and hard to manipulate. I'm only 5'3" and it stretches to over 7ft tall," Nicole told Mashable.
Kissy continued, "We definitely knocked some stuff over and she hit the ceiling fan a few times. Dinosaurs aren't typically sexy, but Nicole totally pulled it off."
Let me just say this is the sexiest dinosaur I've ever seen. Trust me, I've totally seen a lot of dinosaurs.
Despite how unruly this costume might've been (it's a dinosaur — what do you expect?), both Nicole and Kissy agreed that this photo shoot was an incredibly fun time.
In a post that's since gained over 4,000 Facebook shares and over 5,000 likes, Kissy wrote, "This was so fun! Seriously, one of my favorite shoots of all time."
How anyone could stay serious long enough to 1) pose "sexy" in a freaking dinosaur costume and 2) stay still long enough to take a decent picture is beyond me. I literally could not even look at each picture for more than two seconds without laughing.
But according to both Nicole and Kissy, keeping it together long enough for the shoot wasn't easy for them either.
"Nicole and I were laughing until we had tears streaming our face," Kissy wrote.
But a secondary concern to how incredible Nicole and Kissy are for making this photo shoot a reality is what I'm sure a lot of you are thinking: What did Nicole's fiancé think of the photos?
Well, according to Nicole, her fiancé wasn't that surprised. (Nicole, do you do this regularly? WHERE ARE THE PICS?)
Regardless, Nicole reportedly did include some "normal" sexy pictures in the book, but how good could those be compared to these dinosaur pics?
The moral of the story? Either find someone who will buy sexy lingerie... and then wear that on top of a ridiculous costume. OR, find someone who's OK with you buying lingerie and wearing it on top of a ridiculous costume.
Congratulations to the happy couple! Here's to hoping their love lives on longer than any dinosaur ever did!