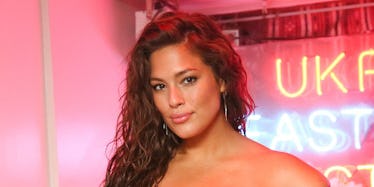 Ashley Graham Announces New Lingerie Line With Sexy Topless Photo Shoot
REX/Shutterstock
Model Ashley Graham done did it again, you guys.
From her Sports Illustrated Swimsuit issue shoots to her daily Instagram posts, the 29-year-old plus-size model clearly lives her life on her own terms.
In early March, Ashley Graham showed off her booty when she rocked a red one-piece bathing suit and went into full-on "Baywatch" mode for a sexy beach photo shoot.
Like, has anyone ever looked better while riding around on a jet ski off the coast of Miami?
Yeah, I don't think so.
Now, the 29-year-old has put another feather in her professional hat by announcing the launch of her new essentials lingerie collection!
How did Graham announce the launch? Well, she took to Instagram to show off a topless photo of course!
How many Ashley Grahams does it take to get your attention? Only one, but we'll take the other six, obviously.
To caption the above photo, Graham wrote,
My latest #essentials lingerie collection is available now! Link in bio! #ashleygrahamlingerie X @additionelle #sexystateofmind #beautybeyondsize
I know what I'm getting my girl for, uh, April?
Graham's full lingerie collection is available at additionelle.com.
In addition to modeling for Sports Illustrated and launching her own lingerie line, Ashley Graham also recently got the chance to star in a music video with Joe Jonas.
Speaking about working with the model in the music video for "Toothbrush," the DNCE star said,
We didn't really think it would be as big of a talking point as it was. I think she is definitely changing the game for that profession, and it's really incredible to see. I didn't realize until the video came out afterwards why it was such a big deal. Hopefully through this music video — and, obviously, through Ashley's career — she's definitely making a difference.
The 27-year-old continued,
For us, we were happy to have her in the video, and that was the key thing. Maybe people will stop making a big deal about certain things like that. She's awesome. She's incredibly intelligent. She's done amazing TED Talks, and anytime we get to hang with her and her husband, it's a great time.
I guess you can add the title of fashionista to Ashley Graham's expansive resume.
Citations: theashleygrahm (Instagram)