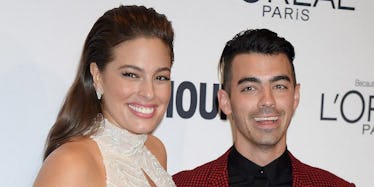 Joe Jonas Admits His Sexual Music Video With Ashley Graham Got A Little Awkward
REX/Shutterstock
Joe Jonas isn't a woman (p sure) and didn't realize the impact seeing a variety of female bodies in mainstream media has on real, non-famous women of all shapes and ages.
Thanks to the response to his sexy sheet-rolling with Ashley Graham in DNCE's video for "Toothbrush," he gets it now.
The former Jonas Brothers professional middle child told Gotham magazine,
We didn't really think it would be as big of a talking point as it was. I think she is definitely changing the game for that profession, and it's really incredible to see. I didn't realize until the video came out afterwards why it was such a big deal. Hopefully through this music video—and, obviously, through Ashley's career—she's definitely making a difference. For us, we were happy to have her in the video, and that was the key thing. Maybe people will stop making a big deal about certain things like that. She's awesome. She's incredibly intelligent. She's done amazing TED Talks, and anytime we get to hang with her and her husband, it's a great time.
Yeah, Ashley Graham does seem like the kind of once-in-a-lifetime person whose hair you have to steal a lock of the moment you get a fleeting chance… not for anything weird, just for cloning purposes.
The pair had natural chemistry, to the obvious discomfort of Ashley's husband, Cole Whittle.
Joe told the magazine,
It was quite funny on set. Cole was pretty mad at me — he didn't even want to be around the filming process — because he was pretty jealous. [Ashley] was great and so much fun to work with. Of course, there's like 10 camera guys in a room with you when you're lying on a bed, but she made it really funny and kept me laughing, which made it really comfortable.
She's got jokes, too. Who is leading the charge on cloning this woman? I feel like I have to do every goddamn thing around here, but fine. I'm on it.
While I'm cloning a million Ashleys, please make sure representation for women continues to expand beyond the whole white, thin, young thing we've been doing forever.
Same.
Citations: Joe Jonas Admits He's 'Envious' Of Younger Brother Nick Jonas! Oh Snap! (Perez Hilton)