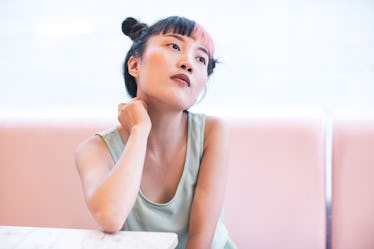 Here Are 3 Reasons Why Your Ex Still Talks To Your Fam And How To Deal
It's possible they have ulterior motives. 👀
If there's one thing I need in a breakup if I want to have any hope of moving on in a timely fashion, it's a clean break. Some folks heal better when they're able to maintain some kind of friendship with their ex, but not me. I need at least a few months to imagine that they don't even exist in order to give my heart room to heal. So, as you can imagine, being forced to wonder, "Why is my ex reaching out to my family?" is pretty much a nightmare scenario.
For some exes, breaking up with you doesn't mean breaking up with your family. The question is, why? Why does my ex keep in touch with my family? Why do any exes feel compelled to keep that line of communication open? Is there a good reason for them to retain a separate relationship with the people who are nearest and dearest to you, or do they always have an ulterior motive?
To get to the bottom of why some exes want to maintain contact with your family, I turned to the experts for their takes on what it all means and what to do if you really want contact to stop. Here's what they had to say.
While there are various reasons why an ex might want to maintain relationships with the people around you, the experts agree you have the right to speak up if it makes you uncomfortable. Maybe a friendship is possible down the road, but the key is to honor your feelings and for the people around you to do the same.
Experts:
Susan Winter, relationship expert and love coach
Trina Leckie, breakup coach and host of the Breakup BOOST podcast
April Masini, relationship and etiquette expert
Editor's Note: This story has been updated by Elite Daily Staff.
This article was originally published on