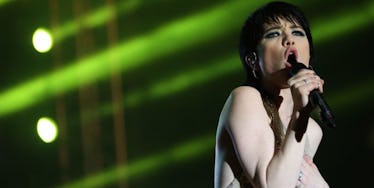 8 Single Celebs Who Prove Your 20s Are For Chasing Your Career Dreams
REX/Shutterstock
As a 26-year-old single girl, I'm constantly battling with myself about how I should spend my time.
My mom says I should have a fiancé by now, but I beg to differ. I'm a firm believer in the idea that your 20s should be all about you, not someone else.
If that sounds selfish... well, that's because it is! You have to be selfish if you really want to fulfill that life dream you've had for yourself ever since you were a little girl. And no, I'm not talking about the white picket fence dream. I'm talking about that other one: Your career dream.
And when it comes to chasing my career goals in my 20s, I take inspiration from some of my favorite celebrity role models who are totally killing it. These women are all around my age, and they clearly aren't focused on landing a fiancé yet either.
They've got bigger things in mind.
Here are 10 single celeb women who show us your 20s should be all about following your dreams, not finding a man:
1. Carly Rae Jepsen
Carly Rae might sing about love (remember "Call Me Maybe?"), but it's clear that her singing career takes precedence over being in a relationship.
After making her music debut (which we all though would just be a one-hit wonder), she went on to Broadway to perform in a rendition of "Cinderella," and in the process, became a double threat.
She recently released her third album, Emotion, which you can find on Spotify. And yep, she did it all without a man. I highly recommend listening to it.
2. Veronica Roth
During her senior year of college at Northwestern University, Veronica Roth wrote the manuscript for "Divergent," which would become a hugely popular book series. After graduating in 2010, she took her manuscript to a writers' conference and the rest is history.
And a box office movie series. I'd say that's a pretty amazing accomplishment, wouldn't you?
3. Mindy Kaling
During her time in the limelight, Kaling has starred in NBC's hit show "The Office," then her very own show "The Mindy Project" and has written two best-selling books.
Kaling is known for poking fun at herself and her pathetic love life. (Although she might or might not have dated her co-star from "The Office.")
But she sticks to following her heart (and the money), and it's paid off big time for her career.
Keep killing it, Kaling.
4. Selena Gomez
Despite her one highly publicized, on-and-off rocky relationship with the Biebs, Selena Gomez has spent her teens and 20s single and building an empire. (BTW: Did you know she's the most followed person on Instagram EVER?)
Gomez started her career as a child star on "Barney." She then moved onto the small screen where she starred in shows like Disney's "Wizards of Waverly Place," and onto the big screen, taking up indie projects like "The Fundamentals of Caring" with Paul Rudd.
I highly suggest watching that movie. She's a phenomenal actress.
5. Meghan Trainor
Meghan Trainor rose to fame with "All About That Bass" (such a good song). But since then, she's released other chart-toppers like "Lips Are Movin'" and "Like I'm Gonna Lose You."
She once told "Billboard" magazine, "I always say, 'I shit hits.'"
Hell yeah she does... and she's only 22!
6. Hailee Steinfeld
Some of us may know Steinfeld as one of Taylor Swift's best friends, but she's much more than that.
Steinfeld made her singing debut with hits like "Love Myself" and "Flashlight" featured in the movie "Pitch Perfect."
"I realize how fortunate I am to have found what I love so young," she said at 16. Now, she's releasing more music, including a single she recently collaborated on with DJ Zedd.
Steinfeld doesn't need no man. As she says (or should I say, sings), "Gonna love myself, no, I don't need anybody else."
7. Halsey
Ah, one of my favorite musicians. Halsey kickstarted her music career using social media platforms like MySpace (flashback!) and YouTube, where she had 16,000 subscribers by the mere age of 18.
She released her first album, Badlands, as an unsigned artist and it gained a ton of traction.
The only publicized relationship of Halsey's was an alleged one with Ruby Rose. Despite most of her songs being about unrequited love, she made it to the top all on her own.
8. Rihanna
We all know about Rihanna's controversial relationship with Chris Brown, but that only lasted a year before it turned into a nightmare.
Since then, she's allegedly flinged it up with Leonardo DiCaprio and gave it a shot with Drake. But forget about that; can we talk about her awesomely raw album Anti, her amazing fragrance (which I wear every day) or her Fenty x Puma clothing line?
Bad Gal Riri's got the world in the palm of her hands, and I don't see her empire ending anytime soon. We should all strive to be just like Rihanna.