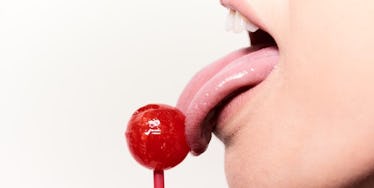 You Can Now Design A Virtual Blowjob To Send To Your Boyfriend For Valentine's Day
Guille Faingold
Gone are the days of giving someone wilted flowers and melted chocolate hearts for Valentine's Day.
I mean, come on. It's 2017. Instead of perusing around for a cheap gift your guy will never actually use, get him hot and bothered, courtesy of a... you know, a blowjob.
Except this time, no mouth and hands are actually required.
Adult webcam site CamSoda has just released its latest pleasure-filled platform in time for the romantic holiday.
Named "B(J) My Valentine," the page allows users to create and customize a virtual blowjob. Then, the personalized BJ will be delivered by email to the man (or curious lady friend) of their choosing.
After selecting from a variety of fellatio techniques — ranging from some starter "Tease the Tip"action to full-blown "Deep Throat" — users are then able to adjust how long each of these styles will last.
That's right; you can keep each one as short or as long as you want (and decide when you want switch things up on him).
Before the virtual blowjob creation is complete, users are encouraged to dig deep into their dictionary of sexual puns to create a raunchy title for their masterpiece before sending the link over to their loved one.
So how does someone actually, you know, receive the blowjob?
Well, those loved ones lucky enough to get a link, which won't be stored or traced (but maybe don't look at it in the middle of a business meeting), can access it by uploading the file to their interactive Kiiroo Onyx masturbation sleeve.
After all your hard work is transferred over to the device, it will mimic all of the intimately intense feelings of a killer, PERSONALIZED blowjob for your guy, without any work from you and without you having to deal with a messy cleanup.
Basically, it's a win-win situation for all parties involved this Valentine's Day.
So congrats! You just became the best girlfriend ever!