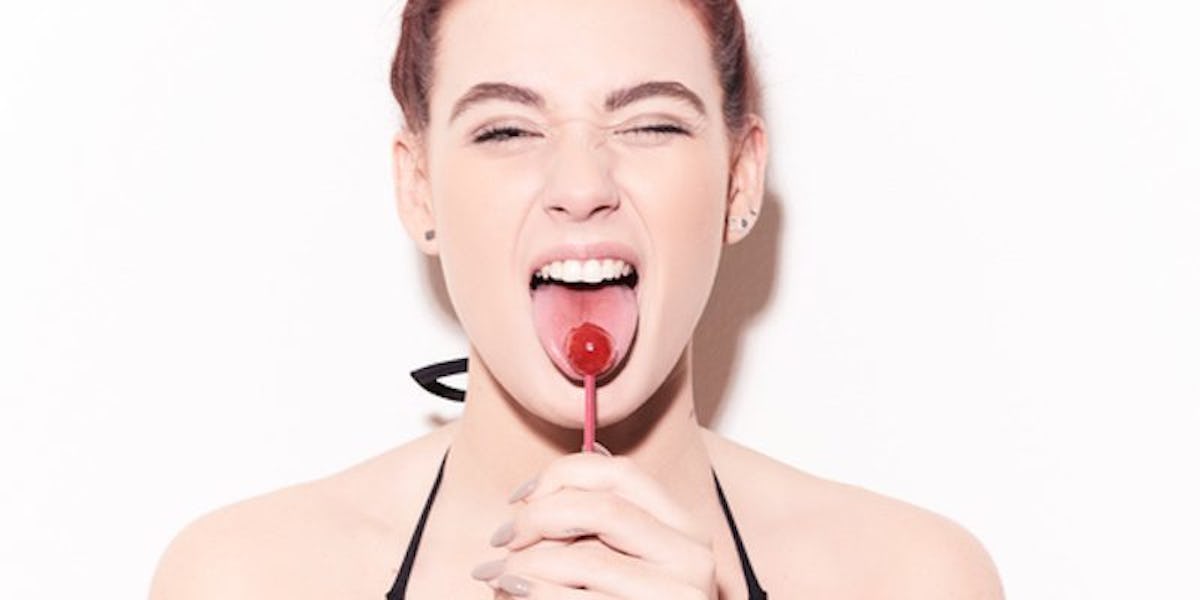 11 Blowjob Tips To Keep Things Interesting
Happy National Lollipop Day! You know what lollipops remind me of? Dicks.
Come on, you guys. Let's be real.
Lollipops are a very sensual treat. It's kind of gnarly because we all loved lollipops as children, but since we've gotten older and our minds have trudged into the gutter, we recognize the phallic nature of our beloved sweets on a stick.
I don't hate it. After all, I love me a good penis and a good lollipop.
Why not just address the elephant in the room and say what we're all thinking? It looks like you're sucking a dick when you go to town on a lollipop. Therefore, we will be bringing the two together today.
Blowjobs and lollipops. What a time to be alive.
You can never really get enough advice about blowjobs. At the end of the day, it is a job. Though they can be totally hot, they're also tiring. You get distracted and start thinking about your groceries you're getting at Trader Joe's later, your jaw starts to clench up and you really start to wonder when this is going to be finished so you can do that face mask you've been wanting to do since you bought it at H&M yesterday.
And that is why I'm here. Auntie Gigi, the blowjob treasure chest of wisdom, is here to give you some tips to make blowjobs less work and more enjoyable for one and all.
In honor of National Lollipop Day, here are some fun and festive blowjob tips for you to take with you into this glorious thing we call life.
1. Wear something that makes you feel sexy.
Get yourself some lingerie that makes you feel hot. Half the blowjob battle is being in the right frame of mind. If you feel like a sexy dom-queen controlling your partner's pleasure, you're going to be more into the whole experience.
2. Put on your favorite playlist.
After several minutes of blowing someone, you mind starts to wander. Blowjobs are fun and all, but they're kind of exhausting and you don't get an orgasm out of it. To keep things fun and sexy for you, put on some mood music. Or even better, make a BJ playlist like this one.
Choose songs with a good beat so you can time your head bobbing to the music. It helps keep your mind focused.
3. Get your hands all up in there.
Your mouth may be the main attraction, but that doesn't mean it is the only act. Your hands are just as much a part of this blowjob experience as your face hole. Use one hand to balance yourself on the bed and the other to mimic the same strokes as your mouth. It takes pressure off your jaw and helps you stay in the game for longer without wanting to die.
4. Come up for air, but don't stop.
It's perfectly fine to take the dick out of your mouth and have a breather. Lord knows, a blowjob can take a hell of a long time. The lockjaw is SO real. Just because your mouth is temporarily off the penis doesn't mean the whole thing just stops. Keep jacking him off with your hand while you're collecting yourself.
5. Change it up.
You don't want to get bored during the blowjob. Nothing takes the fire out of good oral sex like one partner getting over it. It's hard to make an orgasm happen that way.
If something you're doing is boring you, try something else. Experiment with different pressures and speeds. Take cues from your boo. He'll definitely let you know when he likes something.
6. Lick the tip.
The tip of the penis is the most sensitive part. Concentrate on it. Treat it like a lollipop. Under the head, there is an indent. Run your tongue along it while pumping your hand up and down the shaft.
7. Get yourself some flavored lube.
Babeland makes this awesome flavored lube called "Babelicious." I really enjoy the chocolate orange. It makes the whole blowjob experience much more enjoyable. Just make sure you taste the lube before you go full throttle. You want to make sure you actually like it before subjecting yourself to swallowing it for 20 minutes.
8. Pay attention to the balls...
The balls are a prime area for pleasure. Don't ignore them. Gently massage the sack while using your mouth in tandem. Need a break from shoving a D down your throat? Lick his balls while using your hand to stimulate the shaft.
New to sack play? Lucky for you, I made a whole how-to guide on playing with your boyfriend's balls. You can read it here.
9. ...and the taint.
Don't forget his taint. It's the space between his ball sack and asshole. If you don't want to put your mouth there, that's OK. No one is asking you to do that if you're not down.
Make a hook shape with your index finger and reach under there. Massage the taint in time to your Blow-Jay playlist. Trust me, that shit is fire.
10. Handle the gag reflex.
Not everyone is totally gung-ho when it comes to blowjobs. Mostly because shoving a dick down your throat makes you want to hurl.
If you're really interested in giving a good blowjob, but you have a sensitive gag reflex, you can work around it. Instead of having homeboy stand and you go down him — the original blowjob stance — have him lie on his side.
Lie astride him, head-to-foot with his boner. This way, you can take it into your mouth without it hitting your uvula (the little dangler that causes that pesky nausea). For more on this, read my article on blowjobs here.
11. No one expects you to deep throat like a porn star.
Look, deep throating is hot. If you can manage to get some deep throat action into your blowjob, do it. But you don't have to deep throat the entire time. A few times during the whole act itself is plenty.
I feel like this is one of the main reasons some women don't give head; it makes them feel like puking. If you have a sensitive gag reflect, just take as much of bae's dick as you can handle and let your hand do the rest.
Be sure to sign up for Gigi's newsletter for the latest in love and sex.