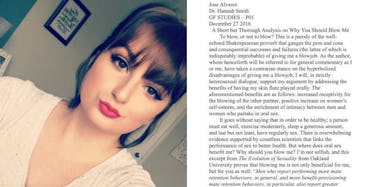 Girl Asks BF For Essay On Why She Should Give Him A Blowjob And He Delivers
Twitter
I'm a single 25-year-old woman, and I can assure you one thing's true: Men will do anything for a blowjob.
OK, maybe not anything. But apparently, some boys are willing to write a persuasive essay in MLA format if you promise suck their dick (I'm just going to be blunt, here).
A sassy girl named Hannah's been dating her boyfriend for year and asked him via text to write her a persuasive essay with reasons why she should give him a good 'ol BJ.
In a surprisingly authoritative tone, Hannah wrote to her bae and said,
I want a persuasive essay with a strong thesis statement written in MLA format on why I should suck your dick. Due by midnight tonight.
Her boyfriend was up for the challenge and said, "I'll fucking do it."
PRESSURE IS ON, DUDE.
As promised, he emailed her an impressive essay written in MLA format. His thesis statement was indeed strong AF, and the entire piece was undoubtedly persuasive.
Honestly, it'd be hard to deny my boyfriend (I don't have one, but let's just imagine) if he asked for a blowjob in such a professional manner.
An excerpt from the first paragraph reads,
To blow or not to blow? This is a parody of the well-echoed Shakespearean proverb that gauges the pros and cons and consequential successes and failures (the latter of which is indisputably improbable) of giving me a blowjob.
He continued,
As the author, whom henceforth will be referred to for general commentary as I or me, have taken a contrarian stance on the hyperbolized disadvantages of giving me a blowjob, I will, in strictly heterosexual dialogue, support my argument by addressing the benefits of having my skin flute played orally.
Bravo, man.
His entire essay then touches upon the undeniable reasons why Hannah should give him a blowjob, and I have to admit, he has a few good points beneficial for everyone involved.
He uses examples such as the fact engaging in regular sexual activity is healthy, and that men who receive frequent blowjobs have more interest in performing oral sex on their female partner.
Read the entire essay yourself, if you want:
Look, I'm no blowjob expert, and I'm not saying everything this clever dude wrote is 100 percent true, but the way he wrote about 'em certainly has me persuaded.
According to Dude Comedy, Hannah commented on the shocking essay and said,
FOR THOSE WONDERING: We have been dating for a year. Yes, I do plan on marrying him. No, I didn't really expect him to write the essay. LOL.
I guess the lesson here is to never underestimate the power of a blowjob... or of your boyfriend who wants one.
Citations: Girl Promises To 'Suck Boyfriends D*ck' If He Writes Persuasive Essay On Why She Should (Dude Comedy), @lovecIoud (Twitter)