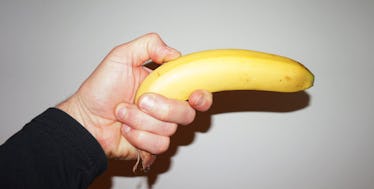 5 Tips For Taking A Dick Pic That People Will Actually Want To Look At
Marcel
I'll admit: I've sent my fair share of dick pics in my 24 years of living, and all for a variety of reasons. (Hey, this is a judgment-free zone.)
Unfortunately, sharing that absolutely perfect shot of your junk can not only be alarming if unwarranted, but also can totally kill a conversation vibe if it's not done juuuuuust right.
For example, I personally am not into giving you a sneak peek of my peen if I actually believe things could go somewhere.
Sure, I may have a solid album of shirtless selfies stored somewhere in my phone you'll never find, but the idea of showing what I'm workin' with way before we've even met just seems a little... off to me.
Now, once we get to date number 2, that's a whole other story.
If you're looking to get XXX-rated via text message, Snapchat or any other photo sharing platform, do yourself a favor and don't whip it out just yet. There are important rules and informative (just the) tips you must abide by before you can master the art of a perfect dick pic.
Below, some wise words.
1. This is a hands-on activity.
Yes, the focus of this picture is meant to be on your dick (hence the name), but that doesn't mean other body parts can't contribute to making it look better than ever.
Instead of letting your member stand in full salute all by his lonesome, utilize your free hand to be strategic with your angles to add in a view of your chest or thighs.
Whether you're standing up or lying on your back, I see nothing wrong with an excuse to show off a little nip and give your shot a little something extra.
2. A buzzer is your best friend.
I appreciate a guy who is capable of growing hair on his body, but I'd prefer if I didn't have to play "Where's Waldo?" with your penis through a jungle of pubes.
Keep things tight and concise by trimming up before sending a mass message to all of our Tinder prospects. If you're daring enough to send a schlong shot out, you can expect it's going to be analyzed down to every follicle, so upkeep is very important.
Plus, the removal of all that hair is an easy way to help add an extra inch or so without making your size the major focus of the photo.
3. Learn to master your own light.
Odds are, you're not using professional lighting for your dick pic, so it's important to make use of whatever light is around.
Natural light with the curtains open is best (just try not to give a show to the neighbors). And whatever you do, avoid using flash or whatever radiates from an open laptop.
The extra dose of fluorescent light from either type of device will only pinpoint small flaws and bring unnecessary attention to that oddly large vein you pretend not to notice.
4. It's all in the details.
A large portion of dick pics are signed, sealed and delivered from the comfort of the sender's bed.
Taking that into consideration, you should not allow your hostile surroundings of dirty clothes and that childhood stuffed animal detract from the tasteful shot of your penis you're so generously passing along. Clean up after yourself!
And if you find yourself situated outside of a bedroom, bathroom or anywhere else that's not your own home and still have the urge to pull your pants down... dear god, man, control yourself. You're not an animal.
5. Go hard or go home.
Look, if you're going to show me your dick, I want to be impressed.
I want to gasp so loud, it startles my roommates and I immediately begin to perspire at just the mere thought of it staring into my soul. Now, in order for me to have such a dramatic a reaction as that, you need to go all in.
There is absolutely nothing worse than the sight of a flaccid penis (even my own gets annoying to stare at sometimes), so before you take that picture, be positive you're 100 percent, fully erect. I'm talking "King Arthur's sword, ready for battle" hard.
I don't play games, and neither should you.