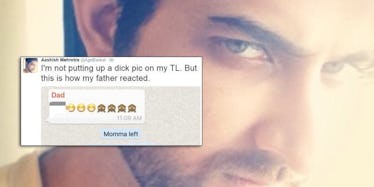 Guy's Uncle Accidentally Sends Dick Pic To His ENTIRE Family's Group Chat
Twitter
Think of the worst thing that could possibly happen to you on a family WhatsApp group chat.
Yes, you're right: accidentally sending a sext to mom, dad, sister, brother, cousin, aunty and uncle.
OK, now multiply that by 101. Because this, ladies and gentlemen, is the situation we're faced with right now.
It was a sext of the most grotesque form. It was a triumphant member. A penis, posted by an uncle. Let's call him Uncle Penis, or UP for short.
You see, in one excitable moment, UP must have forgotten where he placed his lover on WhatsApp. The proud shaft intended for her landed right in front of the eyes of his extended family — nieces and nephews and all.
It wasn't intentional. And if it was, man, that's a family I'd never like to associate with.
He is the uncle of Aashish Mehrotra. He got the unwarranted dick pic in the morning, of all times, and tweeted,
One of my uncles just sent a dick pic on the family group. How's your morning going?
I have so many questions about the dick itself: Was it erect or flaccid? What's the length vs girth ratio? Is the media a GIF of him doing the meat spin?
I know what you're thinking: Are any of those questions necessary?
Well, ask yourself this: Is any of this necessary? The answer is no, absolutely not.
Unfortunately, for some strange reason, Aashish chose not to publish the picture of his uncle's penis. But he did share how the family reacted in the aftermath:
To be fair, Uncle Penis's bro probably found it hysterical. He sent the embarrassed monkey emoji before removing pretty much everyone from the conversation. "Momma" had aborted long before.
So many lessons to be learned.
Citations: BuzzFeed