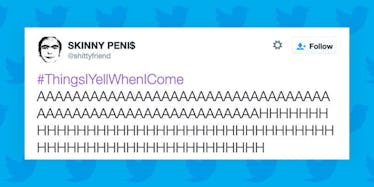 #ThingsIYellWhenICome Is Trending On Twitter, And The Responses Are Hilarious
Kylah Benes-Trapp/Twitter
If you read any of my articles, you might know I think most things involving dirty talk or sexy talk are hilarious, awkward and, for all intents and purposes, way better for entertainment than they are for my libido.
Luckily for me, there is always social media to be my guiding light on how to handle it all. I'd be so lost if it weren't for the internet keeping me up-to-date with all the ways to act and respond during intercourse — bless it.
For example, #ThingsIYellWhenICome is trending on Twitter, and some of the responses are downright comedic gold. Others are predictable, and others, alarming.
Here are my new go-to phrases, thanks to the Twitter gods:
Stick to what you know — like song lyrics.
This is a surefire way to guarantee that when the moment cums (sorry), you'll be ready with your script.
This lady likes to lay it all out there:
While this hero takes a more sentimental route:
And Jr likes to keep everyone in the bedroom honest:
Meanwhile, this fella likes to keep it classic:
Twitter users also seem to like famous catch phrases or one-liners.
For example, Hannah recalls some useful and helpful info:
Whereas Michelle likes to state the facts:
Of course, you can literally, never, EVER go wrong when it comes to "Harry Potter" references.
And somehow, politics ALWAYS finds a way into our conversations... even during sex. God help us.
I guess I'd prefer if Gabriel kept this one to himself at this moment:
Though, Mattyb might have a point:
And sometimes, it looks like people can't help but speak their minds.
WE GET IT, KEGAN, YOU'RE BETTER THAN I AM:
Not now, Sheylita! Not. Now.
Naturally, there always has to be a least one literalist in the sea of millions of "punny" people.
OK, Skinny Peni$, relax. You are heard. You are appreciated.