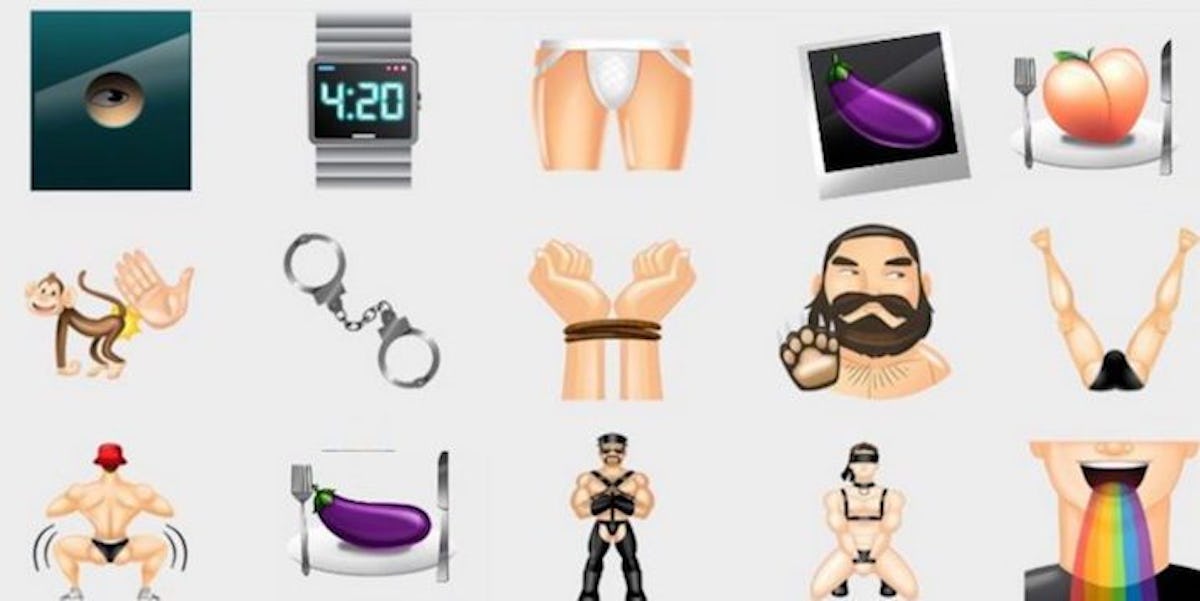 Grindr's Hilarious New Emojis Will Teach You All About The Sex Lives Of Gay People
Grindr
Everyone's beloved eggplant emoji just got a serious upgrade.
Gay dating app Grindr's latest update takes the cake when it comes to overtly sexual emojis.
Their very own "gaymoji" keyboard, equipped with just about everything from "top" and "bottom" bunks to a tough-looking leather daddy, will help users get their feelings across when sliding headfirst into some random stranger's DMs.
Hungry for some quality tush? There's a peach emoji surrounded by a knife and fork that literally means eating ass. 
Interested in a quick hookup but can't host him at your place? You have tons of emojis to explain your case.
How 'bout a way to express that early morning boner you have?  Tell him how you really feel with the sun shining over a log emoji.
Even poppers (a drug popular in gay community that acts as a relaxant... for your butthole, basically) have their own graphic now.
Grindr isn't messing around.
And there's certainly no shortage of the popular purple vegetable, which can come pierced, in a polaroid or in a variety of different flesh-colored shades.
With emojis being the top form of communication these days, the creators wanted to give their users their own set that were much more relevant (and appropriate) for the conversations taking place on Grindr.
"Almost 20 percent of all Grindr messages already use emoji," Grindr's creative director, Landis Smithers, told The New York Times. "There's this shift going on culturally and we need to follow the users where they're taking us."
While the "gaymoji" update was mostly met with positive reviews from the gay community, not everyone was completely receptive to some of Grindr's design choices.
Specifically, the inclusion of the letter "T," a relatively well-known slang term for crystal meth usage, was thrown into the mix and not taken lightly. 
While there was no real confirmation that the large golden "T" represented the drug (I personally went in the route of spilling "tea," or talking juicy gossip), Grindr has since removed the emoji completely in light of the controversy.
I could barely keep up with all the terminology once I first started perusing around on Grindr's slightly complicated interface. Now, there are plenty of ways to get my point across without sounding like a complete novice.
For anyone weary of dipping their toes in the fast-paced hook-up culture, these new gaymojis certainly make the experience a whole lot more entertaining.
Gays always tend to do it better, after all.
Citations: Grindr Launches Naughty Custom Emojis Just In Time For Your Next Booty Call (The Gaily Grind)