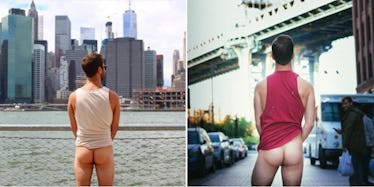 Men Are Sharing Their Bare Asses And Coming Out Stories On This Inspiring Instagram
Everyone, gay or straight, can appreciate a nice tush.
There's just something to be said about a bubbly derriere, perfectly sculpted so that each step taken by its owner has me oddly wishing I had lived out my life as a pair of jeans for that moment.
If you look online, most social media platforms that feature butts are kind of graphic. It's more of a way to gain a social following — not so tasteful and usually just straight up porn.
But that's NOT what The Travelin' Bum is here for.
The 24-year-old who conceived the popular Instagram account aimed to spin the typically stressful process of coming out into one that was therapeutic and inspiring — one that celebrated the exposure... right down to the crack.
The Travelin' Bum himself (who wishes to remain anonymous) tells Elite Daily,
The nudity is something that makes light of what may be a difficult situation. The concept of nudity behind The Travelin' Bum was to allow people to 'free' themselves from their secrets they have been holding in. [It allows] them to bare it all and be their true self, finally.
The bigger picture behind The Travelin' Bum is for gay men, who may be struggling with their sexuality, to feel comfortable in their own skin.
Its founder even used the concept as inspiration for his long-term boyfriend and him to finally feel comfortable out in public.
He explains,
"My boyfriend and I have been together for 3 years and it has been one big, hush-hush relationship that was eating me alive. I wasn't scared of what other people would think, but it was a battle to change the perception of how I saw my life. It wasn't until I was on vacation, in complete relaxation and serenity, that I realized I no longer wanted to live a lie.
Now, he hopes his personal story will resonate with others and encourage them to share their coming out stories and experiences (along with their beautiful booties) to prove it's possible to be free and to be happy.
With close to 20,000 followers and counting, The Travelin' Bum receives about 100 to 150 direct messages per week from gay men eager to share their story.
Those selected must truly embody the point the Instagram account is trying to get across: someone who has overcome obstacles and feels as though they're now living their absolute best life — out and proud.
It doesn't hurt if your butt is especially nice to look at, either.
"The LGBT community has gone through so much for generations, and we are slowly making strides for equality still in 2017," the founder says. "By stripping in public, it shows you are comfortable with who you are as a human, and I think people should be proud of that whether you are male, female, gay or straight."
So what're you guys waiting for?
Tell your story, live your life and while you're at it... start stripping.