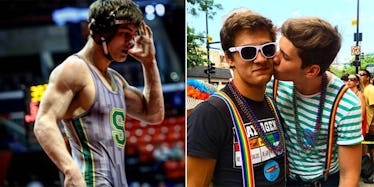 The Story Of This Tough High School Wrestler Coming Out As Gay Will Warm Your Heart
Instagram
Dylan Geick is the best of the best.
As an elite wrestler, whose strength and perseverance earned him a season record of 42-3, Geick has been "the face of the program" at his Illinois high school for the last few years.
According to Outsports, he plans to ship off to New York next year to join Columbia University's top tier Division I wrestling program.
He also just so happens to be gay.
Despite competing in a sport that prides itself on masculinity, using brute force and lots of guy-on-guy touching (not to mention tight, spandex uniforms), Geick found no real reason to continue hiding deep in the closet.
Geick was also in a new relationship with another man and wanted to enjoy it like any teenage high schooler should, so about a year ago, he came out to his friends at his lunch table. And if he lost his "star" wrestling title because of it, so be it.
Like any gossip does, word of Geick's sexual orientation spread like wildfire through various texts and word-of-mouth. Even wrestlers in different districts outside of Chicago became aware Geick was, in fact, gay.
As it turns out, his surprise news garnered the exact praise and approval any young, gay man hopes to receive after coming out to the public.
"The motto for the Stevenson High School wrestling team is 'always together,'" Geick previously told the Chicago Tribune. "We live it, we share it. We're a family."
Those words couldn't have rung more true, as both his teammates and the coaching staff didn't let Geick's sexual orientation change how they felt about him or his position on the team.
Their community values are also what inspired Geick to take the leap and come out in the first place, something other closeted LGBT members may struggle with doing because they're afraid of rejection.
"It just so happened that all of those kids, even those who maybe had a homophobic view before, were able to see past that and are still my friends, and we are much closer even now," Geick told his school newspaper, The Statesman.
While he hasn't heard any negative comments from the close people around him, that didn't stop a rival wrestler from leaving a negative remark about being gay on Geick's Instagram.
And what did Geick do in response to that comment?
"I blew that kid out when we got on the mat," he told Outsports.
Geick's confidence in and out of his high school gym is something that should be admired.
Coming out is no easy feat (I would know), especially when you're part of a macho-centered community, primarily run by straight men.
Only in the last few years have professional athletes like Michael Sam and Gus Kenworthy spoken publicly about their sexualities, proving that gays can compete, kick ass and still make out with other dudes.
Their orientation doesn't make any them any less of a power athlete. It defines them as a strong figure ready to make changes.
For Geick, a prominent high school athlete about to embark on one of the toughest (and drunkest) journeys of one's life, he wanted to ensure his time in school was open, honest and true to himself.
The only way to do that was to be out and proud of who he was.
"One of coolest things is the diversity we have here," Columbia University's wrestling coach said. "People from every country, every gender, every sexual orientation. And just so you know, none of that stuff matters here at all."
How's that for acceptance?
Citations: This elite Illinois high school wrestler is proudly gay (Outsports)