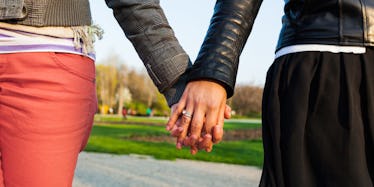 How The LGBTQ+ Community Is Proving Love Will Always Win After Orlando
Shutterstock
As everyone else in the world, I woke up on Sunday morning to hear about the devastating and tragic events that happened at Pulse nightclub in Orlando, Florida, in the early hours of Sunday, June 12.
In what President Obama has called an "act of terror and an act of hate" and Sen. Bernie Sanders called a "horrific atrocity," it is now the deadliest mass shooting in American history.
We are all shocked. We are all hurt. We are all sad. We are all angry.
So far, all signs point to this being a targeted attack on the LGBTQ+ community. Although Seddique Mateen, father of suspect Omar Mateen, said to NBC News that he didn't understand why such an act had occurred, he did say that Omar had previously shown anger at the sight of two men kissing publicly.
While details on what led to such a tragic event are obviously scarce at the moment, one thing we do know is that this is a sad time for a community that has worked so hard for acceptance and belonging. Those that attended Pulse nightclub were only looking to have a good time. The event taking place at the time was supposedly a Latin night, and videos taken beforehand showed people dancing and enjoying themselves.
These clubs are, for many, the only place where they can feel like they can be themselves. It's perhaps one night off from pretending to be someone else and their only chance to feel safe among others like them.
A horrendous tragedy like this is obviously going to provoke anger, fear and sadness. It's what people like Omar Mateen want, and it's something they'll most certainly get, but one thing they'll never ever be able to come between is our community. We will come through this strong and we will come through this together. We've been through so much already, you can't and you won't take our community from us.
Already, the LGBTQ+ and the wider community are supporting one another. I live over 4,000 miles away from Orlando, FL, but here in Manchester, UK, the support of the LGBTQ+ community for those affected is apparent. All around the world, the community is coming together. Pride flags were flown at half-mast all along Manchester's gay scene on Canal Street, London's Old Compton Street will stop to hold hands and pay tribute while there will also be many vigils all around the United States including New York, Boston, Phoenix and Orlando.
The Orlando Sentinel reported that OneBlood was so overwhelmed with blood donations that they've had to publicly ask people to stop coming in and to donate over the next few days. Pat Michaels, a spokesman for OneBlood, said:
The sentiment is understood and appreciated, but it's a little too much, too soon.
The mass shooting in Orlando also happened during pride month — further highlighting that this was a targeted attack and that also the fight for wider acceptance is far from over. June was chosen for LGBT Pride Month to coincide with the Stonewall riots in June 1969.
If he murdered because he saw two men kiss, I say: find someone to kiss. #ChooseLove pic.twitter.com/Xe2iDsoGLn — Edward Snowden (@Snowden) June 12, 2016
As Edward Snowden's tweet suggested, it's important that we wear our pride on our sleeve and refuse to let people like Mateen try to confine us and put us back into a box of fear.
Today, more than ever, I'm proud to be a gay man. I refuse to let the actions of a man like Mateen — and anyone else who shares his dumbfounded beliefs — stop me from being me just because their idea of a lifestyle doesn't quite match up with others.
While our hearts will weep for those injured, killed and affected by this tragedy, we need to stay strong through this. We need to work together to try and make the world a better place and we need to support one another. Love is love.
For those in the Orlando, FL, area and wish to donate blood should visit www.oneblood.org or call 1.888.9Donate.
Citations: Gunman Omar Mateen Described as Belligerent, Racist and 'Toxic' (NBC News), Blood banks at capacity, donors urged to return in coming days (Orlando Sentinel)