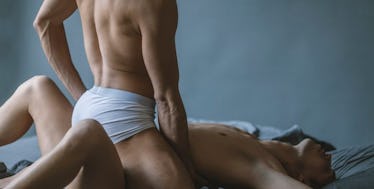 The 5 Things I Wish I Knew About Gay Sex Before I Actually Did It
The fear and unnerving anticipation behind having sex for the first time wasn't worth it.
At least, now I know that.
Before I took the plunge and pulled down my pants, I couldn't have been more nervous. I wasn't sure what to expect, and to be honest, whatever was going through my head wasn't exactly pleasant.
I imagined it would be an awkward, somewhat arduous process, and I thought it would hurt... a lot.
Then, when that drunken Saturday afternoon came around, it all happened (rather quickly, I should add), and boom — I wasn't a virgin anymore.
I just still couldn't believe that's what I was worrying so much about.
Instead of suffering through all that unnecessary build up, here are a few things I wish I knew about having gay sex way before I actually did it.
1. Gay porn is in no way realistic.
Sex isn't scripted. There isn't a horny pizza boy hand-delivering you a meaty pepperoni pizza. There isn't cued-up music synchronized to each and every thrust.
Also, no one is ever that beautiful.
Sex in real-time is sweaty, fast-paced and you don't have time to plan out your movements all the way from a starting make out session to full- blown penetration.
Gay porn just makes it all seem seamless and easy to navigate, when in reality, it's good to read up on your guidebook: Talk to friends, co-workers or anyone who knows about sex in real life and in real-time.
I've learned sex is more like live TV: Anything can happen.
2. Sometimes, bigger isn't always better.
A Coke can, eggplants and a goddamn measuring stick. Those are all things I've heard penises compared to.
Big dicks have this reputation of being the absolute shit, but in actuality, guys with large schlongs think their immense size is all they need to satisfy someone.
Too bad they have to know how to use their deadly weapons, too.
Being on the receiving end of a penis that's larger than normal isn't exactly my idea of a good time. Deep throating is certainly out of the question, and when it comes to taking it, it could take a while to find a position that doesn't feel like you're being split in two.
Sometimes, there ain't nothing wrong with average.
3. If you're doing it right, it shouldn't really hurt.
If you hear "anal sex," you think pain.
Sure, butt sex takes a little preparation, but it'll only hurt if you're dealing with someone ramming it in without caution. Anal sex isn't supposed to induce tears.
If you want to enjoy it, you need to get out of that mindset and allow yourself (and your butthole) to loosen up. It may sound cheesy, but you need to go in relaxed and take some long, yoga-inspired breaths.
Don't clench yourself up. Get comfortable and embrace it. Otherwise, you'll go in assuming the worst.
I learned you can be vocal and tell someone they're doing something wrong. The goal is to have your toes curl, not end up in a pretzel position that causes cramping.
Everyone is different, so lube up and speak up until you find something that works for your body.
4. You have to give if you want to get.
Sex usually involves two incredibly eager individuals, both looking to get off in some fashion. So, no matter what position you find yourself in, you need to make sure you don't make the situation all about you.
If you wanted to make the focus on only pleasing yourself, then you might as well resort back to quality time with your right hand.
Aim to give more than you receive and in turn, your partner will be sure to meet you halfway.
Even if all parties don't reach the finish line, it's the thought that counts.
5. Being a bottom doesn't mean you're any less of a man.
There's such an unnecessary stigma that basically infers that a gay man who enjoys bottoming is feminine, easily dominated and labeled as the  "woman" of the relationship.
It makes men (including myself) scared to enjoy themselves in fear of being labeled in a community where you're already in fear of being judged.
In reality, being a bottom doesn't make you any less of a dude. If anything, it just means you're more open-minded and aware of your body, and frankly, you just know what you want.
Masculinity and femininity shouldn't matter, especially when it comes to having sex.
All that should matter is that you know what you're doing.