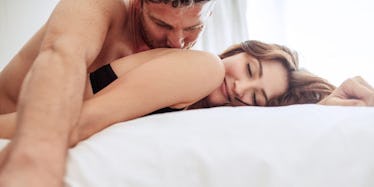 4 Of The Craziest Sex Positions That Everyone Should Try At Least Once
Jacob Lund/Shutterstock
Is your love life getting stale? Can't find your copy of the Kama Sutra anywhere? Want to blow your significant other's mind? Or do you at least want to blow something? Well, here are some crazy sex positions to try at least once. Because hey, why not? Everyone deserves to have a little bit of fun in the bedroom — yes, even you.
It is important to get comfortable, especially emotionally comfortable, in your relationship. However, wearing a retainer to bed every night or food-stained sweat pants is most likely not going to make either you or your partner particularly hot or bothered. So if you want to spice things up in the bedroom, throw that retainer in the trash (like you did so often accidentally in elementary school) and give one of these sex positions a try.
1. The Butter Churner
If you're into sexual positions that remind you of Amish country, then you should absolutely incorporate this po-sish into your routine. In the butter churner, you start by doing a shoulder stand with your legs over your head. Your partner then sits on top of you, gyrating up and down for penetration. It's similar to the cowgirl position, except the man is on top, and instead of being a cowboy, he's churnin' butter.
Side note, according to Kinkly, this position will also make all the blood go toward your head, which allegedly gives you a bigger orgasm. Powerful orgasms FTW!
2. The Sexy Supported Shoulder Stand
The shoulder stand is great for all you yoga lovers out there. This position is probably done best on a hard surface, as it's probably hard to keep your balance on something soft, like a bed — especially a water bed. Don't do that.
While you do a shoulder stand with your legs stretched high into the air, your partner penetrates you from behind, doggy style. He can grab you by the legs and/or ankles to help support you, too... if he's a gentleman. Chivalry is not dead, ladies!
3. The Mirrored Reflection
I hope you have a mirror handy, because you're going to need one for this position. In the "Mirrored Reflection," you slip a mirror under you and your partner while you engage in the sex position of your choice. While doggy style will probably give you the best view, missionary, 69, or cowgirl will work as well to give you both a show and spicing things up in the sack.
Why is this position great? Because it's always hot to watch you and your partner have sex, and it's a lot safer than recording your own sex tape. That can always be dangerous... or it can end up making you famous. But is that a risk you want to take? (Maybe.)
4. The Bridge
In this position, your partner does a backbend, otherwise known as a bridge. Then, you sit on top of them, riding your partner for penetration. It's basically an amped-up cowgirl or reverse cowgirl, which requires a little more flexibility on your partner's part.
So next time you're looking to spice up your sex life, give one of these positions a try. All that yoga you've been doing is useful for more than just a good workout.
Check out the "Best of Elite Daily" stream in the Bustle App for more stories just like this!