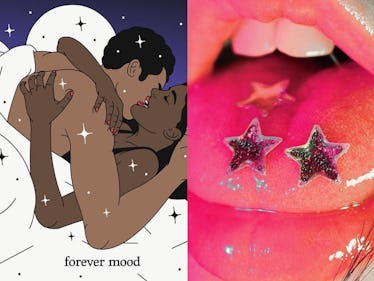 14 Sex-Positive Instagram Art Accounts To Spice Up Your Feed
Instagram / @eromaticax, Instagram / @cecile_hoodie
For a platform that can be full of mundane moments and curated photos, Instagram also contains plenty of content that can catch your attention as you're scrolling — you just have to know where to look. The platform is great for finding new artists and creators making sex-positive content — though it's worth noting that IG does ban nudity, so you won't see anything too NSFW. Still, the best sex-positive Instagram accounts know how to get creative and keep things spicy in your feed.
The creatives behind these accounts never run out of intriguing ways to depict sexual desire — between people of all genders, ethnicities, body shapes and sizes, and with their own distinct touch. They're actively dissolving mainstream depictions of sex as an activity that is heteronormative, straightforward, or purely functional (because hi, sex should be fun!).
From not-so-chaste neck kisses to moments of quiet reflection during sexting to full-blown hooking up, the content on these accounts offers both sexual fantasy and reality. So, if you're looking for a little bit of well-crafted erotic inspiration to add to your feed, look no further. Here are 14 sexy Instagram accounts that will truly put you in the mood to try something new in bed.
This article was originally published on