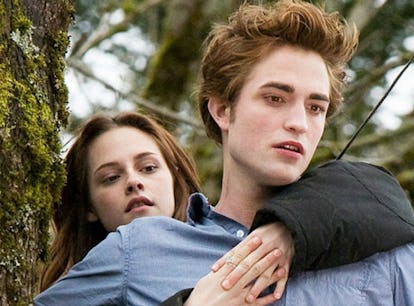 So Here's What Happened When I Sent My Tinder Matches Twilight Quotes
One match even beat me at my game.
Summit Entertainment
True life: I love the fall. IMO, there's nothing better than planning your over-the-top costume for Halloween parties, wrapping up in cozy sweater as you sip a pumpkin spice latte, and buying pumpkin-scented candles for your bedroom. And in honor of spooky season this year, I decided to transition into fall by upping my Tinder game. But instead of the overused "Where are you from?" and "So, what do you do for fun?," I decided to try sending my Tinder matches Twilight quotes in true Halloween spirit. (You know, vampires, werewolves, long-haired red-eyed Michael Sheen — scary!)
Those pale, incredibly gorgeous bloodsuckers were on everyone's mind for a while there, myself included. I had never been that enchanted by any book up until then. When my family went to sleep, I'd use my Nokia screen light to see the words, and then I read and re-read the stories over and over again. I was #TeamEdward at first. When New Moon came out, I briefly switched to #TeamJacob, only to return to #TeamEdward by the end of the second film. My best friends and I literally screamed in the movie theater when Edward proposed. Suffice it to say, I was so excited for this little experiment.
Considering the dizzying love confessions and strangers don't usually match very well, I expected everyone to get spooked and unmatch me almost right away. But, to my surprise, that didn't (always) happen. Please enjoy their reactions.
All in all, I had a lot of fun with this, but aside from potentially fun first dates, I learned a valuable lesson. As it turns out, Twilight quotes serve as amazing ice-breakers (as long as you don't take it too far), and I suggest you incorporate them into your next dating app banter and spice it up a little. Don't worry — when you tell them you're really just quoting a movie, they apparently find it hilarious... for the most part.
This article was originally published on