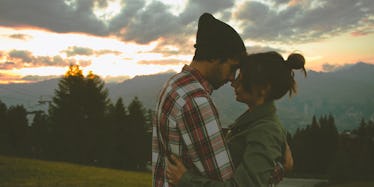 5 Anniversary Gifts That Say 'I Love You' Louder Than A Price Tag
Bonnin Studio
I'm sorry to say it, guys, but when it comes to being romantic, a lot of you don't know how to sweep your girlfriends off their feet. It's OK, you're taught to believe that being sentimental isn't a manly quality. And that sucks.
So, when anniversaries come around, guys are usually left panicking when it comes to picking out a gift for their girlfriends. They think they have to put down an extraordinary cost just to show their girlfriends how much they appreciate them.
Well, I'm here to tell you that love don't cost a thing.
Being romantic doesn't automatically equate to dropping hundreds of dollars and posting about her all the time. So, guys, here are five gift ideas that are meaningful, thoughtful, heartfelt, FRUGAL and everything your girlfriend could ever want:
1. Make a personalized calendar.
This idea isn't something many people (women included) think of as a gift, but it's cute and thoughtful! Certain websites let you add personalized photos that match the season or month you are entering. Include her birthday and other events like your anniversary on the calendar, too.
And don't stop at the calendar! Anything personalized is a plus, whether it be dog tag necklaces, a mug, a blanket or a picture frame. Personalizing a gift automatically makes something meaningful.
2. Surprise her.
Every woman loves a romantic surprise. For this year's anniversary, decorate her bed with rose petals, blow up 12 balloons and attach one picture from each month you've been together to the strings. Put notes on the back of each picture, and you have a deeply personalized gift. As an added bonus, give her a scrapbook or photo album so she has a place to keep those pictures forever.
You can provide enough pictures for a year's worth of memories, or you can go the extra mile and provide enough pictures for every month of every year you've been together. The choice is yours, but regardless of what you choose, this will be a perfect anniversary surprise.
3. Make it an adventure.
Whether it's a date to the park, a hiking trail or your favorite beach, pack a picnic basket with some wine, wine glasses, a platter of cheese and deli meats. Don't forget the blanket!
When you spend a lovely afternoon reminiscing the past few years together over some crisp wine, your girlfriend will be more than just swept off her feet: She'll probably fall in love with you all over again (at least, I would).
It doesn't cost much (read: it literally costs nothing) to take her to an open and public place, so splurge a little on the wine and let the memories flow.
4. Write her a letter or card.
I'm talking Noah-style from "The Notebook." You may not be Shakespeare (and boy, does she know it), but anything you write expressing your feelings will honestly show her how much you love her to the moon and back. If you're the kind of guy who has an especially hard time expressing honest emotions, this gesture will show her just how deep your feelings run.
For women, it's the thought that counts. And the effort you put into this note will make all the difference, no matter if your handwriting is chicken scratch and you're a nervous wreck while reading it. She'll think it's cute, and it will definitely melt her heart.
5. Get her a star.
This might be a stretch and straight out of "A Walk To Remember," but what girlfriend doesn't want a star named after her? It doesn't cost much to adopt a star in the sky. Even better than this, you can donate to a charity in her name. This way, you're not only celebrating your anniversary, but also giving back to Mother Earth by making your marks on it together.
A lot of men feel confused when it comes to planning anything that seems romantic. They often think that spending loads of money on the nicest hotel or vacation getaway will do the trick. But sometimes, it doesn't take much to woo the love of your life.
Let's be honest, the phrase "love don't cost a thing" is definitely true. It's not about throwing your money at your girlfriend and trying to show her how much you love her by buying expensive designer watches, purses and shoes. It's about doing the small, meaningful gestures that truly count.
I mean, who doesn't mind anything designer? But sentimental gifts last a lifetime, and they don't come with an expiration date and will never run out of style.
Come on, men. Who said chivalry was dead? Use these tips and see how your girlfriend's face lights up at the sight of your romantic gesture.