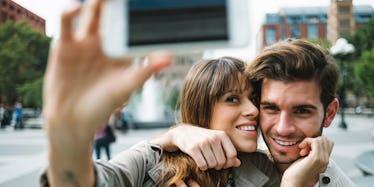 5 Types Of Couples Who Need To Take A Break From Social Media
Advertising a relationship on social media can tear Millennial couples apart. After all, claiming a perfect relationship on social media and arguing behind the scenes is false advertisement.
Couples are disconnected between appearances of the "perfect" online relationship and reality. It's time to take the relationship mask off and just be real.
Are couples leading a double life? Social media makes me think so. They're often consumed with trying to make a bigger impression in the cyber world, as opposed to making a real human connection with their love interests.
Couples should stop advertising their relationships on social media, as it only leads to comparisons of what a perfect relationship appears to be. And that ultimate comparison can lead to the falsehood of the blind leading the blind.
Here are five types of couples we're all sick of seeing on social media:
1. The Happy Feet Couple
This is that one couple who's constantly Snapchatting a picture of their bare feet while watching movies in bed. It's also that one couple walking their dog, showing off their tennis shoes and puppy paws.
Try showing off your faces a little bit more. I don't know about the rest of the world, but I certainly do not enjoy seeing pictures of bare feet in my news feed.
2. The Foodie Couple
This couple on social media is like that one gentleman who won't stop raving about how his wife-to-be whipped up the greatest food of all time: a tossed salad. Every other post is not of any of his interests, but an excessive amount of her face, how much he loves her and how he is so lucky to have her in his life.
Start loving and investing in yourself more. It's just as important to highlight your accomplishments as it is to highlight those of your partner.
3. The Engaged To My Best Friend Couple
This is the couple who just got engaged, and every post is a picture of the ring with the quote, "I get to marry the man of my dreams!" Every single #TBT post is of the proposal (which probably happened a year ago).
Instead of advertising your proposal on social media, take your engagement photoshoot pictures, print them out and mail them to your friends and loved ones like the good old days. You could also print these photos and create an album or collage instead.
That way, you can hang them in your home for your loved ones to see. Your social media followers really don't care that much.
4. The Gift That Keeps On Giving Couple
This is the couple who won't stop posting about gifts they get for or from one another. Don't believe everything you see. Nobody really knows what's going on behind closed doors. Who knows if you've recently got into a fight, and the person was guilted into getting you a gift?
And if your partner genuinely did buy you gifts, it's better to keep it to yourself. You don't need to overcompensate or exaggerate the kind of relationship you have to other people.
Keep your gifts private. Share it between the two of you. It will make the experience even more special.
5. The Narcissistic Selfie Couple
Combine this couple's social media accounts together, and you get a slew of selfies no one asked to see. Every photo posted by this couple is a selfie of the pair claiming how much they love each other.
There are lots of times when this couple posts something a little too NSFW, and you immediately regret ever following them in the first place.
Try spicing things up by bringing variety into your relationship. A normal photo with both of your bodies in it may be a good place to start.
Are you in front of The Louvre? Are you at a waterfall? No one would be able to tell from your selfie.
Take selfies in moderation. Send them to each other as opposed to posting them on public platforms.
A happy life is a private life. Start living authentically and not in cyberspace.
Be as genuine with your relationships off-camera as you are on. Be the couple you wish to portray for the public in real life and behind closed doors.