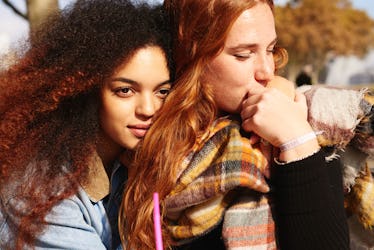 Here Are 6 Signs You've Met The Right Person At The Wrong Time
Timing really is everything, right? I've certainly ruined a good joke by blowing the timing of the punchline, definitely missed a handful of flights by miscalculating my schedule, and I probably missed bumping into my soulmate because I was running late. As in life and comedy, timing is essential in dating, too. Finding a compatible match is key, but what happens if it's the right person, wrong time? Meeting the right person at the wrong time does happen, and if you're not sure whether this is the case for you and your boo, then experts say there are signs that can help you figure it out.
Plenty of people think they know what their life will look like when they're ready to settle down, but what happens when you meet your "soulmate" at the wrong time? Whether you're focused on your career, recovering from a breakup, or getting ready to move across the globe, you could meet someone great at a not-so-great time for a number of reasons. As relationship expert April Masini tells Elite Daily, "Having chemistry with someone is very different from having long-term relationship compatibility with them."
If you're crushing on someone who feels so right but is oh-so-wrong for you in the long-term, then you'll likely notice these telling signs.
If you suspect you've met the right person at the wrong time, then Masini suggests being "as clear as possible with yourself and your partner." She adds, "Don't waste your time or theirs. If they are never going to make the money you want a partner to make, and are committed to a life as a poet living in a garret, and you want retirement savings, kids, a house with a mortgage and two cars, cut off and move on. Be polite and kind, but firm and clear."
Of course, time passes and people change, so you might consider leaving a door open for someone once you've both on the same page. Masini agrees, saying, "You can leave the door open — if there are changes. For instance, if the poet goes to law school and wants to stay in touch, that's a good reason for keeping the door open." Just know that, if you wait around for the timing to the right with that one person, then you might miss your chance with someone who's even more right for you.
Experts:
April Masini, relationship expert
Trina Leckie, host of the Breakup BOOST podcast
Meredith Golden, dating coach and dating app expert
Nina Rubin, life coach
Susan Winter, NYC-based relationship expert
Irene Fehr, sex and intimacy coach
Editor's Note: This story has been updated by Elite Daily staff.
This article was originally published on