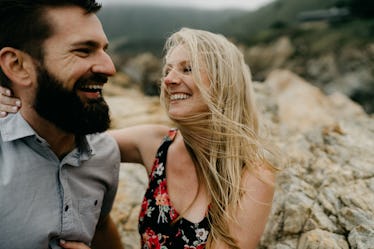 3 Ways To Tell If You're Actually Compatible With Someone Who "Looks Good On Paper"
I love paper the way Brick Tamland in Anchorman loves lamp. First, I love floral wallpaper. I also love hundred dollar bills. I love writing to-do lists on sticky notes. I really love checking off boxes, especially when it comes to dating. And not just that box. (Clearly, I also love trash jokes.) I like ambitious, successful, and funny people. Color me superficial, but a good alma mater turns me on. VP of something? Ooh baby! And it's not just about looks good on paper when it comes to the green kind — give me a man who loves Fleabag and The Wire as much as I do, and I will marry him.
Blame Disney, exes, my parents' loving marriage, too many compliments and too much self-esteem from said parents my entire life, or some combination of all the above, but somewhere along the way, I got particular. I decided there were a whole bunch of boxes I wanted my eventual Prince Charming to tick off, and I set my mind on seeking them out: tall, cute, hilarious, smart, good school, great job, amazing taste in food, even better taste in popular culture. My friend one told me that someone being up on the zeitgeist is my dirty talk. She's not wrong.
With the advent of dating apps, it became super easy to nail down some of these boxes with a swipe or two. Arrested Development reference? Oh hell yes. Harvard Business School? Hot and nerdy and rich, oh my! My typical dark haired, cute-but-not-intimidating-looking type? SWIPED! This approach of paper-first is actually a terrible idea.
Here's the thing, I've gone on 25 of 51 dates I committed to for a podcast, and so far, the best dates have not been with the people who seemed "the best" on paper to me. The Harvard Business School alum was perfectly nice, but the best dates I've gone on have been with people there has just been undeniable, effortless chemistry with — regardless of what happened to be on their resume.
I will absolutely call myself out for a moment: I ask for so much on paper, and yet, what do I provide in return? Christ, I owed the IRS money this year! I was recently listening to Alexi Wasser's "Love, Alexi" podcast with Whitney Cummings, and Cummings brought up an interesting point: we all want the "best partner ever," but why? Do we think we are the "best?"
NO! I in no way think I am the "best" woman, on paper or not. I am the antithesis of Princess Charming — I am Princess Snark. I'm just a person with OK manners who sometimes gets a little gloomy and self-involved. What am I doing holding out for the "perfect" man? Especially when my own experiences have taught me that the people I think are best for me on paper, are actually quite the opposite.
I spoke to dating expert and coach Meredith Golden of SpoonmeetSpoon about how to tell if you're actually compatible with someone.