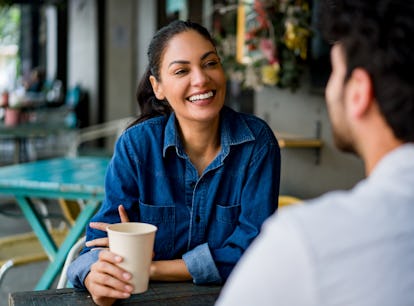 Here's The Real Reason Every Zodiac Sign Dreads First Dates
Small talk is only part of it.
Hispanolistic/E+/Getty Images
First dates aren't easy, and anyone that says differently just hasn't been on enough yet. Meeting someone new and trying to decide if you like them (while wondering if they like you) is tiring and can bring out a slew of insecurities you didn't even know existed. (Sounds fun, right?) And although we all dream about that picture-perfect first date, the reality is typically less ideal and more awkward.
But that doesn't mean you should embrace a pessimistic mindset. Rather than worrying about everything that could go wrong, focus on what could go right. And, at the end of the day, look at first dates as a necessary experience with a lot of opportunities. They're a chance to make a new friend, gain a new funny story, and, yes, potentially meet the love of your life.
Still, there's a legit reason some people aren't thrilled to go on first dates, and, yes, most of it has to do with nerves. But your zodiac sign can also play a role in how your approach first dates. Your astrological chart can have a strong impact on your date one mindset — for better and for worse.
With that in mind, it's important to know how your zodiac sign might be playing into these first date jitters. That way, you can prep yourself accordingly. To make it easier, here's a complete list on why each sign doesn't like first dates.
Dating 101 states that self-awareness (astrological or otherwise) is key. Whether you're taking a dip into the dating pool, upping your flirting game, or looking to settle down, you have to know yourself first.
So figuring out how your zodiac sign is affecting your dating life can only help you in the long run — especially if you want to find someone for real and put the stream of first dates to bed.
Experts:
Michaela Carey, expert astrologer
Chelsea Jackson, astrologer and cosmic writer
Nina Kahn, astrologer
Lisa Barretta, astrologer and author of Conscious Ink