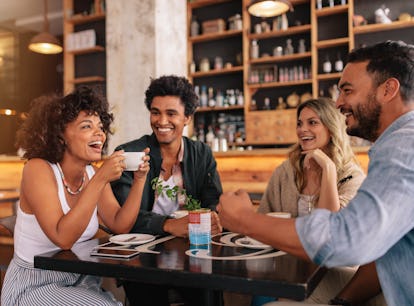 40 Questions To Ask Your Crush During Truth Or Dare
Shutterstock
If my entire life were to be reduced into an anecdote about a game from childhood, it would undoubtedly be: Always chose truth. What can I say? As a Capricorn sun with a Taurus moon, I'm not exactly a thrill-seeker. I am, however, an impromptu deep conversation-seeker, which is perhaps why I love to think of questions to ask your crush during a game of truth or dare.
No matter how long you've been smitten with someone, sometimes getting to know them on a deeper level can be a little awkward. So playing a game like "truth or dare" can get everyone laughing and feeling comfortable expressing themselves in a fun and communal way. That said, preparing some truth or dare questions for your crush is a good idea — you never know when the opportunity to ask them might present itself.
Of course, no matter what middle school game you're playing in your adult years, from "seven minutes in heaven" to "never have I ever," you never should feel pressure to do anything that you're not completely comfortable with. For example, if you're not into talking about your family or you'd prefer to keep your Instagram and romantic history private, you can always give a big "thank u, next" to a question you're not feeling.
If you're ready to rumble and need some inspiration, here are 30 truth or dare questions to ask your crush.
Playing truth or dare can be a super fun way to get to know your crush a little better. Of course, though getting closer to someone can be special (and a turn-on!), you never need to share anything you're not comfortable sharing. When you're totally swooning over a new cutie, the best thing to do is be yourself, and that's the honest truth.
This article was originally published on