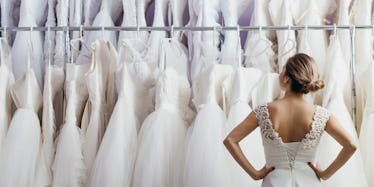 You Can Plan Your Perfect Wedding By Messaging This Robot On Facebook
Danil Nevsky
Calling all brides: A new Facebook robot called BlingChat is here to help you plan your perfect wedding, shop for rings and dresses and find out how well your fiancé really knows you.
Basically, the new tool is a wedding planner, your mom and maid of honor rolled into one easy, breezy conversation with your computer. Oh, internet, is there anything you can't do?
I took it for a spin (not like I've been planning my wedding since the day I could speak or anything!!!), and had a blast spending my work morning browsing diamonds, flowers and venues.
When logging onto Facebook messenger, BlingChat gets you started with options to browse rings, shop for wedding details or play "I Do/I Don't".
This is the fun part.
The "I Do/Don't" tab allows you to pick your dream wedding details and provides you with the option to learn more about your choices.
It will walk you through choosing a ring, a dress, a venue and a bouquet, and give you the opportunity to expand details on your choices, viewing things like pricing and product information.
Some of the features are a little bit buggy, but overall it was a lot of fun browsing the random selections BlingChat sent me, rather than do the work myself of starting from square one and scouring Pinterest for inspiration.
Once you complete all of your choices, it will quickly curate your responses into a quiz for you to send to your significant other. They can then take the quiz to find out how well they REALLY know your taste and also see if you're on the same page about your special day.
I sent my quiz to my editor to see how well SHE really knew me, and to be honest, it didn't go well. It's OK. I'm not upset. (I am very upset.)
Good thing we aren't going to be walking down the aisle together anytime soon.
My biggest gripe? Where's the wedding cake!!! I need help deciding on that more than anything!
But overall, this is an easy option to help expedite some of the trickier decisions on planning the biggest day of my, OOPS, I MEAN YOUR, life, and I recommend it mostly for getting the ball rolling and inspiration flowing.