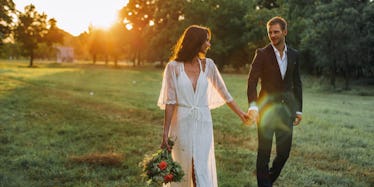 I Want To Get Married And I Don't Care Who Knows It
I have something I want to say: I want to get married. I want the whole thing. The whole shebang. The entire enchilada. The real deal.
I want a YouTube-worthy proposal, wonderful engagement party, wedding dress shopping with my mom, and my best friend to be my maid-of-honor.
I want a big wedding with delicious food, a live band and speeches about how great and everlasting our love is.
And at the end of it, I want a husband whom I love and who loves me, and we live happily every after.
I love "Say Yes to the Dress" and wedding Pinterest boards. I love when you're at a show or on a cruise and they ask the crowd who's been married the longest, and then, old people stand up and we all clap for them.
I love the idea of dying old with somebody, "The Notebook" style. Fucked up, I know, but I just love love!
And I'd love an engagement ring for Christmas.
For whatever reason, I'm ashamed to say that out loud most of time.
I just think it's cool to be in love, but I don't think most people agree with me. In fact, I think being in a happy relationship makes you pretty boring to most of your friends.
If I bring up my relationship, my friends all tend to assume the same facial expression — a mixture of judgement and boredom — that somehow conveys I'm letting them down or have said something inappropriate.
Lots of people call sharing your life with someone "codependence," but instead, I just feel very, very lucky.
Honestly, good for me for finding someone who wants to share their life with me. Even better for me that he supports my goals, champions my creativity and brags about me to his friends.
I want to be this big, burly, hairy man's wife, you guys. He's the freaking best.
But I think it's annoying as hell that it's up to him to decide when it's time for us to take the plunge. We've been together for three years and living together for two, and we talk about where we will raise our kids, like, all the time.
AND WAIT, BEFORE YOU FREAK OUT AND ASK WHY I DON'T JUST PROPOSE TO HIM (FUCK THE PATRIARCHY, RIGHT?!), believe me, I've thought about it.
He and I have had long, thoughtful conversations about when the right time for both us is, and he already knows where I stand. Every day, he opens a closet full of hints I've left, and after two glasses of wine, you can bet I casually say, "So, like, do you think I should keep your last name or what?"
Also, I... like... want a ring, too. Not a blood diamond or anything, but a ring, for sure.
AND WAIT, BEFORE YOU FREAK OUT AND THINK HE MUST NOT ACTUALLY LOVE ME BECAUSE, IF I'M READY AND HE'S NOT, THEN THAT'S INDICATIVE OF A BIGGER PROBLEM (AKA HE ISN'T REALLY INTO ME?!), believe me, I've thought about that, too.
But in a committed, serious relationship, one of the things I've figured out the hard way is, circumstances will sometimes trump true love.
Things like financial stability, family drama and physical health are all good reasons to hold off on changing your life forever.
One of the things I've figured out the hard way is, circumstances will sometimes trump true love.
But in my particular scenario, I just don't care about any of those things. Also, IT'S CHRISTMAS.
What, he's just going to pass up this perfect opportunity to confess his undying love to me by way of gifting me a material item that in no way actually sums up our eternal love but is pretty to look at and I love pretty things?
I'm all-in on this guy. I know one day we'll be spoon-feeding each other from our old-person wheelchairs in our spaceship (clearly making assumptions about the future here) and telling our grandchildren about our epic love story.
Not too long ago, we celebrated our three-year anniversary, which has always been annoying because it's so close to the holidays. I got him a hideous white leather coat that he absolutely LOVED in the store and he got me a freaking PUPPY.
AND WAIT.
Before you say, "Isn't that a huge commitment? And do you really know what you're doing? How can you care for another life if you can't even decide if you're in this for the long haul? What are you? Idiots?" believe me...
If there's one thing I can get right it's raising a dog. If there's one thing this gift showed me, it's that my boyfriend IS committed.
And maybe, just maybe, a ring IS on its way.
If it is, I'll likely be pretty loud about it on social media. Sorry, friends.
If it's not, you'll probably find me writing a very similar article on the next holiday that roles around. "I Want An Engagement Ring For New Years." "I Want An Engagement Ring For Valentine's Day." "I Want An Engagement Ring For Flag Day. Cinco De Mayo. National Pancakes Day."
I'm in love. I'm in love, and I don't care who knows it! If he's a bird, I'M A BIRD.
Babe, hello? Are you reading this? Babe?
My ring size is 6 and I love rose gold *hint hint.*