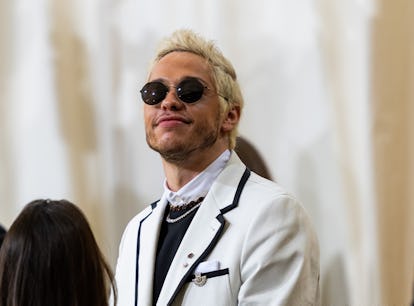 There's Officially A Pete Davidson Sex Toy And I Low-Key Understand Why
It's literally called "The Davidson Dildo."
Gotham/GC Images/Getty Images
Rumor has it Pete Davidson, famed Saturday Night Live comedian and the stud of Staten Island, is dating the one and only Kim Kardashian — a development that has rocked the modern world. The reported romance has led some of us to question everything (seriously, everything), and it's led others to… well… to create a Pete Davidson-inspired sex toy. Yes, really.
Brought to us by adult video streaming platform CamSoda, the Davidson Dildo is embellished with colorful tattoos — including a mermaid, a red rose, and a heart that says, "Mom," because of course. Oh, and the contraption is designed to sync to the comedian's appearances on SNL and "gyrate accordingly." That's right, friends: You, too, can get off while watching characters like pool boy Chad. Dreams really do come true!
Now, admittedly, when I first learned of this sexual invention, I was mildly horrified. A tattooed prosthetic penis that recognizes the sound of Pete Davidson's voice? It's practically the plot of a horror film. But upon reflection, I kind of, sort of started to get the appeal. Hear me out.
Davidson has presumably charmed his way into the hearts of women like Ariana Grande, Kate Beckinsale, and Bridgerton's Phoebe Dynevor. Is his sex life any of our business? Absolutely not. But are we all collectively curious about his reported BDE and carnal appeal? Fascinated, even? Yes. Yes, we are. And this flesh-and-technicolored dildo may be our only window into his erotic energy. (Until, of course, we're next in line to date him.)
The thing is, Pete Davidson is hot. He's tall and tattooed, funny and successful. He's been through the ringer in life, developing an unparalleled sense of dark humor and compassion along the way. Sure, there are legions of people perplexed by Davidson's relationship history, but honestly, who among us wouldn't be lucky to catch a ride on this Staten Island stallion?
In the words of CamSoda VP Daryn Parker, "Pete doesn't have to be locked down with just Kim. We can all share a piece of the SNL stud and get to know him more intimately."
CamSoda, you know where to find me.