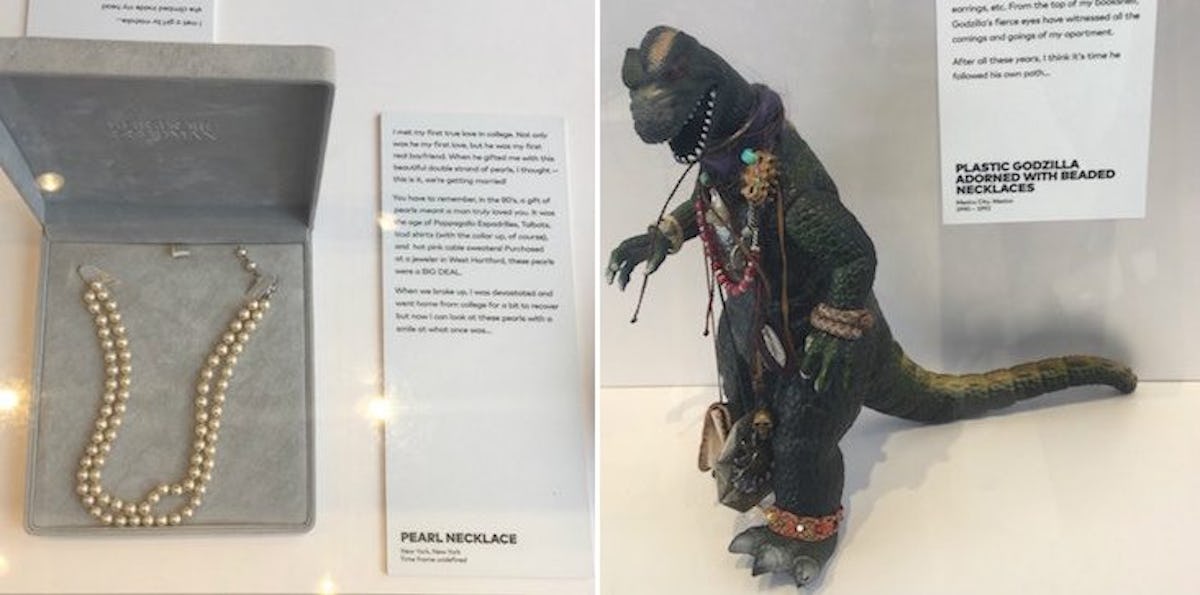 These 13 Items In The Museum Of Broken Relationships Will Make You Miss Your Ex
Alexia LaFata
When a relationship comes to an end, all that's left — besides the memories, of course — are a bunch of random items that only mean something to you and your ex.
My ex left a hardcover book in my apartment for those days when we just lounged around and didn't feel like doing anything. I don't know what to do with it. It's currently in the top drawer of my vanity, hidden beneath some socks and underwear.
I can't bring myself to get rid of it, but I also can't bring myself to put it on my bookshelf to join the rest of my books, because that would mean having to look at it every day.
The Museum of Broken Relationships, an exhibition of items left over from past relationships, located in Los Angeles, is filled with miscellaneous artifacts just like mine — a pair of pajama pants, a toaster, a lint roller — that are seemingly meaningless, but really tell a story of a love lost.
All of the items are donated anonymously by regular people and even celebrities, and include a description of the story behind the item.
A pop-up version of the museum, which is the brainchild of an actual ex-couple from Croatia, came to New York City on July 16 and 17 in partnership with A Night with My Ex, a new TV show premiering July 18 at 10 p.m. on Bravo.
I was lucky enough to catch a viewing of the pop-up while it was in NYC. Below are 13 items that hit me the hardest in the feels.
1. Plastic Godzilla Adorned With Beaded Necklaces
I have kept this Godzilla for over 20 years, a gift from a girlfriend who wanted to live with me. The relationship ended abruptly after I moved into my apartment. One day I told her I loved Godzilla movies, the ones I had seen on TV when I was a kid. After we had separated (on very bad terms), I used the Godzilla to hang some memories from my other girlfriends, such as necklaces, earrings, etc. From the top of my bookshelf, Godzilla's fierce eyes have witnessed all the comings and goings of my apartment. After all these years, I think it's time he followed his own path...
2. Fleece Pants
A few days or a week after 9/11, I flew on one of the first planes to leave New York City to go visit my boyfriend who lived in LA. It was my birthday and his whole family got my presents. His sister got me these pants. It was a random gift, but turns out a great one. Even though my boyfriend and I broke up in 2003, I still wear these pants. You never know when you're going to need a pair of cozy leopard-print fleece pants. Happy birthday to me!
3. Green Dress
I've had my share of break-ups, some happened in front of a national audience, some didn't. This is the dress I wore when I went back to the apartment I shared with my ex to get some last items after we broke up. It was a sh*tty situation but you gotta look hot if you know you'll see your ex.
4. An Unopened Candy G-String
This was what he thought of as 'romantic': a thong made of candy. I laughed, but never took it out of the box. He never bought me flowers because flowers, he said, were for boring people. Instead I got sausages or new parts for my bicycle. I didn't mind because I loved him. After four years he turned out to be as cheap and shabby as his presents. He cheated on me with a colleague from the office and dumped me via e-mail.
5. Cigarette Box
During my first attempt to quit smoking, she filled an empty cigarette box with cigarette-sized notes. Each one listed the things she loved and admired about me, so I could read one every time I had a craving for a smoke. I kept it for years, in case I would ever need those words to help me quit again... turns out I didn't.
6. The Toaster Of Vindication
When I moved out, and across the country, I took the toaster. That'll show you. How are you going to toast anything now?
7. A Side-View Mirror
One night his car was parked in front of the 'wrong' house. He paid for that negligence with his side-view mirror. I was sorry afterwards since the car was not to blame. The wipers also got their share, but they were made of more solid material and thus stayed on the car. The following day, when the 'Gentleman' came home, he told me a weird story about some hooligans who tore off his side-view mirror and bent the wipers. It was so funny that I was tempted to confess. Still, since he never told me where he had been that evening, neither did I. It was the beginning of the end of our relationship.
8. Lint Roller
I used this lint roller on my ex boyfriend EVERY TIME he stepped foot in my house... because he has cats (that didn't like me much). Also, even though I used this lint roller every day, I could never wear black clothing because there would always be a trace of cat hair somewhere on me.
9. Prada Belt
This belt is one of the many items I consider part of my settlement with my ex-boyfriend. When he broke up with me and moved out, he left behind a slew of high-priced belongings. This belt is one of the many items. Other settlement pieces include: Prada shoes, Ralph Lauren shirts, Dolce & Gabbana sunglasses, Fendi watch, Missoni bag.
10. A Below-Knee Prosthesis
In a Zagreb hospital I met a beautiful, young and ambitious social worker from the Ministry of Defence. Love was born when she helped me get certain materials which I needed for my below-knee prosthesis as a war invalid. The prosthesis endured longer than our love. It was made of sturdier material!
11. Pearl Necklace
I met my first true love in college. Not only was he my first love, but he was my first real boyfriend. When he gifted me with this beautiful double strand of pearls, I thought — this is it, we're getting married! You have to remember, in the 80's, a gift of pearls meant a man truly loved you. It was the age of Pappagallo Espadrilles, Talbots, Izod shirts (with the collar up, of course), and hot pink cable sweaters! Purchased at a jeweler in West Hartford, these pearls were a BIG DEAL. When we broke up, I was devastated and went home from college for a bit to recover but now I can look at these pearls with a smile at what once was...
12. A Pair Of Glasses From My Eyewear Collection
My husband and I were married for 7 years, and recently divorced. Although I felt in my heart that our journey as husband and wife had come to the end, I was sad to lose my husband and my friend. So when I developed my eyewear line, I decided to name a pair of my sunglasses 'The Peters', as a gesture & memory of the love we once shared. As it turns out, they are one of my number one sellers! So, every time I sell a pair of 'The Peters', or wear them, I just smile to myself. Although we are no longer married, I will always have a piece of Peter in my life, and a part of my memories.
13. Talisman (Exploding Pickle Candy)
My ex gave this to me as a joke, because he knew I liked weird, novelty candy. Instead of eating it (no thanks), I kept it in my purse the entire time we dated. For reasons I can't quite explain, it became a more meaningful talisman than any real gift he ever gave me. It embodied a perfect little moment we had together, and capsulized the idea that when you're in love, everything — even exploding pickly candy — feels touched with specialness. I'm happy to donate it now. The specialness wore off.
Dang.
Did you think about your ex while reading this? What item would you donate to this museum? Let me know in the comments.