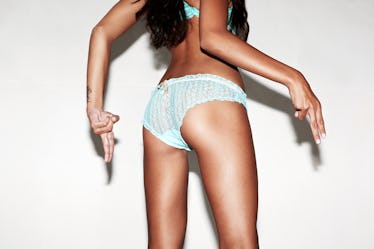 5 Reasons To Try A Little, Ahem, Self-Love Before Your Next Date
The psychological benefits of a big O will set you up for success.
Should you shower before a date? Yes. Should you masturbate before a date? Also yes. Maybe reverse the order of those two things, though. First date jitters are the worst, and masturbating can help you feel more at ease before you meet someone new.
Masturbation is amazing for many reasons, and not just because it makes you feel good. For one, it gives you something to do other than pacing in your apartment all afternoon. If only for a few minutes, you get to redirect all of your attention and energy to appreciating you. This is probably even more effective than any pep talk you were going to give yourself in the mirror, but you're welcome to throw in a couple complimentary chants while you get yourself off.
Best of all, masturbating before a date is a great way to remind yourself that your happiness is literally in your own hands, which helps to take the edge off. It's reassuring knowing you don't need anyone else to make you feel sexually desirable or fulfilled. If the date goes poorly, that's their loss, not yours! You've got all you need — with the help of a sex toy or two.
What do the experts have to say? Good news: masturbating before a date has real benefits for your mindset. "It is an awesome idea to masturbate before a date," Dr. Donna Oriowo, clinically licensed social worker, sex and relationship educator, and therapist, tells Elite Daily. "Just be sure to wash those hands or toys before and after."
Forget blasting the "Confidence Boost" playlist on Spotify — welcome to your new pre-date routine.
Studies referenced:
Brody, S., & Krüger, T. H. C. (2006). The post-orgasmic prolactin increase following intercourse is greater than following masturbation and suggests greater satiety. Biological Psychology, 71(3), 312–315. https://doi.org/10.1016/j.biopsycho.2005.06.008
Parenthood, P. (n.d.). Is Masturbation Good For You?: Benefits of Masturbation. Planned Parenthood. https://www.plannedparenthood.org/learn/teens/sex/masturbation/masturbation-good-you.
Experts:
Dr. Donna Oriowo, clinically licensed social worker, sex and relationship educator, and therapist
Dr. Tami Prince, OB-GYN and owner of Women's Health and Wellness Center of Georgia, LLC
August McLaughlin, author of the book Girl Boner: The Good Girl's Guide to Sexual Empowerment
This article was originally published on