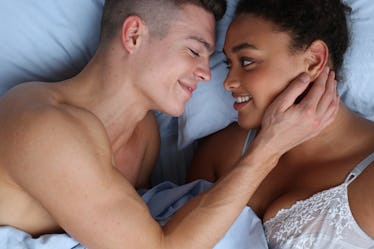 These Are The Cheapest Sex Toys On Amazon That Still Get The Job Done
Bustle
When you're looking for sex toys to buy online, you deserve to get all the bang for your buck, and with the best cheap sex toys featured here, I'm confident you will.
Of course, fancy sex toys cost more because they feel great. But still, you don't have to splurge in order to get a great toy that lasts long and gets the job done. In fact, there are plenty of inexpensive toys out there that can provide reliable and worthwhile stimulation on your clitoris, G-spot, prostate, or anywhere else you might have in mind — you just have to know what to look for.
I've rounded up some of the most budget-friendly toys on Amazon — all of which are simple to use and actually good, so you don't have to spend your precious bucks on a hunk of junk that you'll just need to replace in a couple of months. Whether you're looking for a realistic dildo, a set of graduated anal beads, or a sex wedge that'll help you hit new positions on your own or with a partner, the toys included here are some of the best that money can buy. They just also happen to be cheap, too.