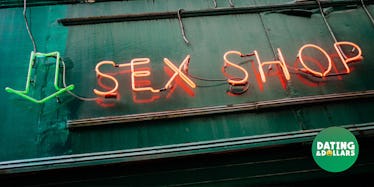 These 10 Inexpensive Sex Toys Are The Best Bang For Your Buck
Good Vibrations Images
My near decade's experience writing about sex toys has helped me learn some crucial things.
If there's a brand name involved (LELO, Fleshlight, and JimmyJane, to name a few of my personal favorites), you'll be spending BIG bucks — which is totally worth it if you want your adult goodies to be top quality and last a lifetime.
But spending money on bedroom toys probably isn't a main priority for you right now. You've got some bigger money concerns.
Then again, I can't think of any better way to warm up this winter than with a toe-curling orgasm. So, screw your heat bill this month and drop some $$ on some inexpensive sex toys that are just as effective.
All of my titillating picks below from Adam & Eve (I'm a fan of their merchandise because they're still high-quality) are around $20, so you can be a little selfish with your spending and not have any guilt:
Butterfly Kiss, $20, Adam & Eve 
The Butterfly Kiss is like the infamous Rabbit, but with a different name (for what I assume are legal reasons).
This toy is instead "inspired" by the Rabbit, meaning it does the exact same thing (stimulate both sweet spots for girls), but at a fraction of the price.
Finger Vibrator, $20, Adam & Eve 
Did you know that "finger vibrators" was even a sex toy category? You bet your curious ass they are!
And despite the severely unattractive name given to this particular  model, most are pretty damn effective.
So, if finger banging has become dull in your home, grab yourself the Fingo Nubby — which has a unique texture and vibrating capabilities — to bring back that foreplay.
3. Fun Jelly Dildo
Jelly Dildo, $15, Adam & Eve 
Every woman needs a dildo in her nightstand, and in terms of value, Adam & Eve's Fun Jelly Dildo is hard to pass up.
Measuring at 6.5 inches by 1.6 inches wide, the Fun Jelly Dildo has somewhat realistic textures (head, balls, veins and all), and comes complete with a suction cup that can fasten to any flat surface for ultimate stability.
Silicon Booty Boot Camp Training Kit, $30, Adam & Eve 
If you're interested in charting those anal waters (sorry for the visual), this anal sex training kit is a good place to start.
Though this is the most expensive item on the list, this kit comes with three plugs (small, medium and large), each with suction cup bases, meaning you're only spending roughly $10 per toy.
Wicked Aqua Flavored Lube, $9, Walmart 
I could pour this shit on my pancakes, I kid you not.
First and foremost, Wicked's lube is my absolute favorite brand because of its quality. But I also like their unique and oddly delicious vegan flavors (which include: candy apple, salted caramel, mocha java, etc.).
And, it has many effective uses for any and every situation that requires lube, such as masturbation, oral, and yes, even anal.
Fleshlight, $60, Adam & Eve 
Coming in at six inches long and three inches wide, the All In Stroker is a cheap version of the coveted Fleshlight (which, even if you buy the cheapest model, will run you at least $80).
This baby takes male masturbation to the next level, courtesy of its "love nubs" and "pleasure ridges" within the sleeve that work in unison to massage your manhood the way your lubed up hands never could.
Power Bullet Vibrator, $11, Adam & Eve 
If you're persuaded by discretion, allow me to introduce the Power Bullet Mini Vibrator: a powerful vibrator that measures at a mere 2" x 1".
Don't let the size fool you though — this baby packs a punch. Unfortunately though, watch batteries are required because of its incredibly tiny size.
RingO's Penis Ring, $9, Amazon 
I'm not a huge fan of cock rings, but I know many people are. Another thing I know is that some cock rings require batteries, so I've chosen a best-seller that's super-duper cheap and won't require those dumb, tiny watch batteries that you used to buy specifically for your Tamagotchi.
This baby's nothing special, but it gets the job done.
Sassy Anal Beads, $11, Adam & Eve 
Anal beads might seem like a joke (especially when prefaced with the word "sassy"), but A LOT of people use them.
This particular model is 12 inches long with 10 plastic beads (that range from a quarter inch to an inch in size) and a pull ring handle for easy removal.
This is another toy that's good for beginners because you only have to insert however many beads you want. Or, you could always dare to go further, you naughty minx, you.
Pocket Vibrator Kit, $25, Adam & Eve 
If you're after a discreet vibrator that doesn't require watch batteries, I suggest the Revitalize Pocket Vibrator Kit.
The toy comes with three silicone attachments ("Hugger," "Flicker" and, "Pillow") and stands at four inches tall and one inch wide.
This toy is a bestseller and the reviews are nearly unanimous: This toy is well worth the money.