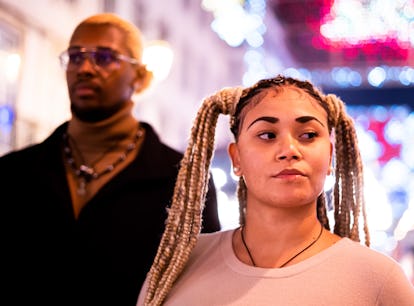 Here's The Zodiac Sign You're Least Romantically Compatible With
You can still make it work, but there might be challenges.
Carles Navarro Parcerisas/Moment/Getty Images
Dating can be overwhelming. It can often feel like there are just so many people out there. That's why having some criteria to help you filter out folks you don't think you're suited for can be really helpful. There are some obvious signs to look out for: initial physical attraction (or lack thereof) or major red flags that stand out. But what about the more subtle signs someone isn't the right fit? That's where knowing some of the least compatible zodiac signs might come in handy.
It's important to remember that zodiac compatibility is not a guarantee that a relationship will succeed, and sun sign incompatibility does not automatically spell doom. "Zodiac compatibility is about so much more than sun signs," Erin River Sunday, the lead astrologer at Birthdate Co., tells Elite Daily. "The moon is very important when it comes to how you feel nurtured, and Mercury can show how well people in romantic relationships communicate (or don't!). Sun sign compatibility, or incompatibility, is a very small piece of the overall romantic puzzle and shouldn't be treated as black and white."
That being said, sun sign compatibility can be a helpful tool that might give you deeper insight into someone's personality and whether or not they'll mesh well with yours. "Any two signs of the zodiac can be compatible, and therefore no two are ever completely incompatible," Sunday says. "However, there are some signs that might have a more difficult time together than others." With that in mind, here are some of the least compatible zodiac signs.
Again, astrological compatibility is no guarantee of a love connection, but it can serve as a general guideline. Any zodiac pairing has the potential to work, but some relationships might require a little more effort to get on the same page. That being said, if it seems like you keep swiping right on the wrong people, it's worth considering the folks you are most astrologically compatible with and seeing how that can help.
Experts:
Erin River Sunday, lead astrologer at Birthdate Co.
Chelsea Jackson, Houston-based astrologer and cosmic writer
This article was originally published on